What would be the first thing that pops into your mind if you were to hear the word – Ang Mo Kio?
"Just a typical housing neighbourhood?", you might say.
Well, today we're going to change your mind by reintroducing this quaint neighbourhood filled with vibrant things to do!
If you're looking to unwind by yourself, spend some quality time with your family, or gain new experiences with your friends, you have come to the right place!
Keep reading as we highlight the best things to do in Ang Mo Kio Singapore!
10 Best Things To Do In Ang Mo Kio Singapore
1. Escape Away To Ang Mo Kio Town Garden West
One of the first two parks in this town, Ang Mo Kio Town Garden West serves as a hideaway for nearby residents to unwind within a quiet and tranquil surrounding.
Highlights:
Visitors can stroll or jog at this park while enjoying the greeneries.
Spot for the Lotus Pond located right at the entrance!
Climb up the 120-steps staircase leading to a large open plaza area overseeing the park.
Tips: Look around to spot for cocoa pods from the cocoa tree planted in the park!
Location: http://bit.ly/AngMoKioTownGardenWest
Opening Hours: Daily: 24 Hours
2. Follow The Tune To Kebun Baru Bird Singing Club
One of the things to do in Ang Mo Kio Singapore is to visit a special singing club – performed by birds!
Located around the corner of Garden West Park, the club was formed by avid bird lovers from all over Singapore who share the same passion in finding the best bird pet!
Highlights:
Spot for over 1,000 cages hoisted up on 20 feet high poles!
Chat with bird owners to learn about their singing birds.
Birds are grouped in different sections around the park by its breed – make sure to check them all out!
Tips: Catch the bird singing competitions hosted on weekends for a unique experience!
Location: Block 159, Ang Mo Kio Avenue 5, Singapore 560159
Contact: +65 8182 2943
Opening Hours: Daily: 6:00am to 12:00pm
3. Visit The Iconic Dragon Playground
Built-in the 1980s, this heritage playground still maintains its original façade even after 40 years!
With only four of its kind left, you will see why this historical spot is highly popular amongst the neighborhood kids!
Highlights:
The only full-sized dragon playground with mosaic slides is located in Ang Mo Kio.
The dragon head is formed using terrazzo tiles and its spine from steel rails for some climbing action.
The sandpit playing base has been replaced with rubber paddings for safety.
Reminders: Younger children should take extra precautions as the gaps in between the steel rails are quite wide.
Location: 570, Ang Mo Kio Avenue 3, Singapore 560570
Opening Hours: Daily: 24 Hours
4. Walk Down Memory Lane With Kampong Mural
One of the things to do in Ang Mo Kio Singapore is of course, heading over to the Town Council to reminisce what old Ang Mo Kio was like.
Perhaps unfamiliar to the younger generation, local artist, Yip Yew Chong, painted each mural hoping to bring back the nostalgic memories of the past!
Highlights:
Spot for painted murals such as kampong houses on stilts, grandmother cooking in the kitchen, and other familiar scenes from back in olden days.
Read up on the information stands explaining each mural scene.
Tips: Look out for an adorable cat peeking from the stilts of the kampong house!
Location: 341, Ang Mo Kio Avenue 1 (Theck Ghee Court Market), Singapore 560341
5. Explore Bishan-Ang Mo Kio Park!
Serving both residents of Bishan and Ang Mo Kio, this park offers more than it meets the eyes!
Highlights:
An old concrete canal was deconstructed and naturalized into a river that blends naturally into the park.
The concrete slabs salvaged from the project were used to build Recycle Hill!
Visit Therapeutic Garden to learn about the therapeutic benefits of certain plants.
A popular spot for jogging, cycling, and family gatherings as it is pet-friendly too.
Reminders:
Park lighting time is from 7:00pm to 7:00am.
No line-fishing in the river, Dragonfly Pond and Lotus Pond.
Cycling on bridges is discouraged.
Location: 1384 Ang Mo Kio Avenue 1, Singapore 569932
Opening Hours: Daily: 24 Hours
6. Splash Around At Yio Chu Kang Swimming Complex
Love playing with water?
Yio Chu Kang Sports Center offers a conventional swimming center for all ages!
Highlights:
There are three types of pools available according to your skills: the competition pool, teaching pool, and wading pool.
Facilities such as changing rooms and canteen are available.
You can choose to sign up for swimming lessons offered from the basics to advanced swimming lessons!
Reminders:
Peak hours are between 6:00pm and 10:00pm on weekdays and between 7:00am and 10:00pm on weekends and public holidays.
Non-peak hours are from 8:00am to 6:00pm on weekdays.
Location:
202 Ang Mo Kio Avenue 9, Singapore 569771
Contact:
+65 6481 9054
Opening Hours:
Daily: 8:00am to 9:30pm
Morning Swim: Monday, Wednesday, Friday & Sunday: 6:30am to 8:00am
Weekly Maintenance: Thursday: 8:00am to 2:30pm
Ticket Price:
Monday to Friday:
Singaporean: SGD$1 (Adult), SGD$0.50 (Child/Senior)
Non-Singaporean: SGD$1.30 (Adult/Child/Senior)
Saturday to Sunday & Public Holidays
:
Singaporean: SGD$1.30 (Adult), SGD$0.60 (Child/Senior)
Non-Singaporean: SGD$1.70 (Adult/Child/Senior)
7.  Bury Your Nose In A Book At Ang Mo Kio Public Library
Bookworms will surely enjoy this, as one of the things to do in Ang Mo Kio Singapore is to visit one of the prominent landmarks there, the public library!
Highlights:
There are over 250,000 collections of reading materials available!
Join a reading club held every evening on the 4th Saturday every alternate month for a book discussion with people from all walks of life.
Do not miss the regular storytelling sessions for children age between 4 to 10 years old – in both English and Mandarin
Tips: Books can be returned at the 24-hour book drop service provided.
Location: 4300 Ang Mo Kio Ave 6, Singapore 569842
Contact: +65 6332 3255
Opening Hours:
Daily: 10:00am to 9:00pm
Closed on: Public Holidays
Christmas Eve, New Year's Eve and Chinese New Year Eve: 10:00am to 5:00pm
8. Pamper Yourself At Aramsa Garden Spa
Take some time off to pamper yourself at this award-winning garden spa!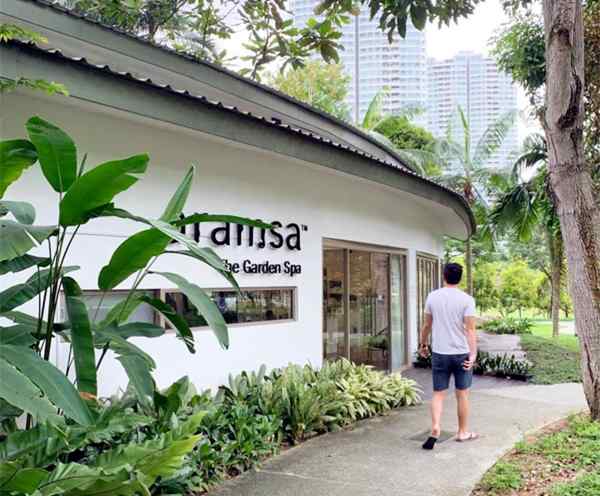 Famous for their aromatherapy massages and detoxing treatments, you will leave this place feeling refreshed and recharged!
Highlights:
Aramsa Spa has 17 uniquely designed treatment rooms with spacious garden courtyards and outdoor showers.
The spa's unique garden design is recognized by the Singapore Institute of Architects!
Enjoy the quiet and peaceful surroundings throughout your session with complimentary tea and snacks.
Reminders: Make sure to call them to confirm your booking to ensure your slot is fixed.
Location: 1384 Ang Mo Kio Avenue 1, Bishan Park 2, Singapore 569932
Contact: +65 6456 6556
Opening Hours:
Monday to Thursday: 10:00am to 10:00pm
Friday to Sunday: 10:00am to 10:30pm
9. Grab A Meal At Canopy Garden Dining
Smack right within Bishan – Ang Mo Kio Park is Canopy Garden Dining offering a scrumptious menu to choose from after a workout at the park.
Opened from sunrise to sunset, this place warmly welcomes family, friends, and even pets!
Highlights:
The restaurant serves brunch from morning till late afternoon and classic western dishes in the evening.
Soak in the ambiance as the restaurant blends seamlessly into the surrounding nature.
There is a large outdoor patio suitable for pets to run about.
Reminder: The food price is slightly on the higher end.
Location: 1382, Ang Mo Kio Avenue 1, Bishan Park 2, Singapore 569931
Contact: +65 6556 1533
Opening Hours:
Monday to Thursday: 9:00am to 10:30pm
Friday: 9:00am to 11:00pm
Saturday: 8:00am to 11:00pm
Sunday & Public Holidays: 8:00am to 10:30pm
10. Affordable Dim Sum At Kow Loon Hong Kong Dim Sum
Spanning across two to three stalls, this dim sum shop has been operating for over 30 years!
Easily spotted with its tons of bamboo dim sum baskets stacked on top of another, get your tummy filled here without hurting your wallet.
Highlights:
There are over 50 varieties of handmade Hong Kong and Shanghai dim sum to choose from!
The dim sums are freshly made and served directly to your table so that you do not have to move around.
Reminders:
Choose a seat closer to the roadside for cooling ventilation.
Coffeeshop only accepts cash payments.
Location: Block 151, Ang Mo Kio Avenue 5, #01-3030, Singapore 560151
Contact: +65 9685 9371
Opening Hours: Daily: 7:00am to 9:00pm