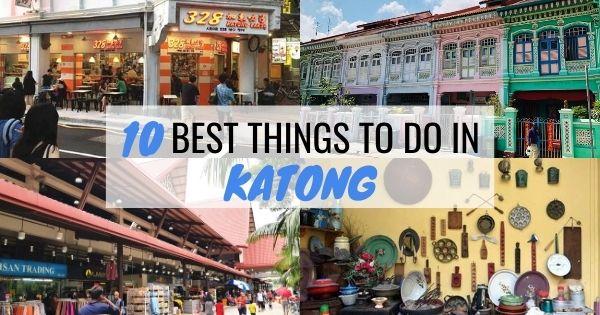 Katong is known for being one of the best historical places filled with heritage buildings and more!
When you've decided to step away from the busy city, Katong is a calm, mellow area.
We've curated a list of things to do in Katong for you to explore the highs and lows of this part of the country.
Without waiting any longer, here's the first thing you should do when you visit Katong:
10 Best Things To Do In Katong
1. Have Some Fun Outdoors At East Coast Park
If you're in the mood for some fun outdoor activities while getting a great view and fresh air, East Coast Park.
There's enough for space to let you do various activities such as cycling, rollerblading, or sun tanning during the day.
At night, you can take walks under the moonlight.
Highlights:
Local food can be found at the East Coast Lagoon Village
They serve seafood at the East Coast Seafood Centre
Different recreational sport activities are permitted at the park
Tip: It can get crowded during the weekends so it's best to be there on weekdays instead.
Location: East Coast Park Service Road, 455486 Singapore
Opening Hours: Daily 24 hours
2. Enjoy A Bird's Eye View On Top Of The Singapore Flyer
An experience you will never forget is getting the best view of Singapore's cities. If you thought the view from skyscrapers is beautiful, wait until you get on the Singapore Flyer!
At 165 meters high, Singapore Flyer presents an incredible sight of the country's cityscape which is especially pretty during the night, along with lovely parts of Indonesia and Malaysia.
Highlights:
Get an exclusive aerial dinner with their Premium Sky Dining Flight
Enjoy drinks like cocktails and champagne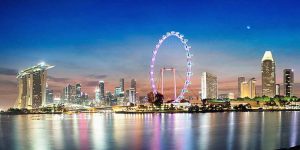 Tip: The wait could be long so be prepared for that, but it would be worth it in the end!
Location: 30 Raffles Avenue, Singapore 039803
Opening Hours: Daily: 3:00pm to 9:00pm
3. Learn About Hinduism At Sri Senpaga Vinayagar Temple
For a look on Singapore's magnificent architecture, stop by the Sri Senpaga Vinayagar Temple.
The temple showcases shrines and sculptures that are sure to mesmerize you.
The murals and carvings found in the temple can bring you a sense of tranquillity while displaying a great part of history.
Highlights:
The temple is kept clean at all times
Tourists gain knowledge from locals, priests or information displayed on boards
Restaurants are located across and nearby the temple
Tip: Booking your visit is recommended beforehand particularly if you are looking to take a tour.
Location: 19 Ceylon Road, Singapore 429613
Opening Hours:
Saturday: 6:30am to 12:00pm
Sunday: 6:30am to 9:00pm
Closed On: Monday to Friday
4. Experience The Peranakan Heritage At Peranakan Houses
As a reminder of Singapore's bright and colourful history, even after all these years, you can still feel a hint of the Peranakan heritage that has been left behind along the Peranakan Houses.
When looking for things to do in Katong, this is something you can't miss!
Highlights:
The neighbourhood has a variety of culinary and dining experiences
Shops are open nearby selling traditional wear, accessories and handicrafts
Tip: It's best to pass-by in the morning to witness the houses in glory, basking in the sunlight.
Location: 113 East Coast Road, Singapore 428803
Opening Hours: Daily 24 hours
5. Get A Taste Of Unique Delicacies From Geylang Serai Market
Grab a bite at the Geylang Serai Market, which gives you a great taste of unique delicacies while showcasing Singapore's history through shophouses and eateries.
From savoury to sweets, the market has a wide selection of treats for you to choose from – each of them presenting a different culture and background.
Highlights:
A variety of Malay and Indian cuisine and produce
Festivities are held during special occasions
The night market features delicacies such as savoury Indian doughnuts and spicy red broth noodles
Tip: Come with an empty stomach so you could try as much food choices as you want!
Location: 1 Geylang Serai, Singapore 402001
Opening Hours: Daily: Wet Market – 6:30am to 12:00pm, Food Centre – 8:00am to 10:00pm
6. Explore The Many Attractions At River Valley Road
Great experiences and sights await you at the River Valley Road! Whether it's for recreation, tourist spots, or interesting sights, you can find them here.
Highlights:
Book an affordable luxurious stay at Robertson Quay
Visit the well-known theme park Universal Studios Singapore
Experience a mix of architecture and nature at the Gardens by the Bay
Shop at one of Asia's biggest shopping destinations, Orchard Road
Meet some animals at the Singapore Zoo
Get a taste of the nightlife at Marina Bay Sands Casino
Tip: Plan out your trip to River Valley to get the most of your time around the area.
Location: River Valley Road, Singapore
Opening Hours: Opening hours may vary
7. Brush Up Your History At The Eurasian Heritage Centre
Get to know more about the Eurasian community in Singapore through an engaging heritage attraction.
Explore their history and culture in the means of various exhibitions and more!
Here, they showcase pictures and displays of bits and parts of the community's culture throughout the years.
Highlights:
Food sampling of the traditional Eurasian fare
Try the traditional sugee cake or the super-spicy Devil's cake
Take part in dance and music-related workshops
Get a chance to participate in hands-on cooking sessions
Tip: A guided tour is best for people to get a better context on the displays.
Location: 139 Ceylon Road Eurasian Community House Eurasian Community House, Singapore 429744
Opening Hours:
Tuesday to Sunday: 9:00am – 6:00pm
Closed On: Monday
8. Pay A Visit To Katong Antique House
Preserving the remains of Peranakan culture in a simple two-story shophouse sits the Katong Antique House.
The house showcases antique treasures displaying the heart of the culture and presence in the country.
Along with these remnants of Peranakan heritage, the house is also a store consisting of unique pieces ranging from clothing and accessories.
Highlights:
Realistic experience of Peranakan culture through different daily items
Peranakan food is sold at the front of the house
View a collection of one-of-a-kind Peranakan books and antiques
Tip: The shophouse can only be visited by appointment so be sure to book one beforehand.
Location: 208 E Coast Rd, Singapore 428907
Opening Hours: Daily: 11:00am to 4:30pm
9. Eat Bowl Of Delicious Noodles At 328 Katong Laksa
When finding the best laksa in Singapore, even the locals head over to East Coast Road. Without a doubt, eating this laksa is one of the must things to do in Katong!
328 Katong Laksa serves authentic laksa, the thin rice noodle dish, topped with other ingredients such as fishcake, prawns, beansprouts and cockles.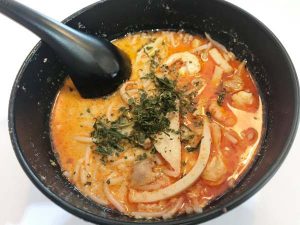 Highlights:
Their Katong-style laksa gravy is one of the best around
Have your laksa with their otah to get the perfect combination
Tip: Prepare yourself to have a serving or two with how good their laksa is!
Location: 51 East Coast Road, Singapore 428770
Opening Hours: Daily: 10:00am to 10:00pm
10. Feast At The Local Hawkers Stalls In Marine Parade Market
Head over to the Marine Parade Market for a social experience over great food. They are known to have a huge variety of local hawker stalls to choose from.
Hang with some friends or family and grab a snack or drink in the area!
The Best Stalls Are:
Apollo Fresh Cockle Fried Kway Teow – for fried kway teow.
Kun Ji –for their braised duck, roasted duck and char siew rice
D'Aunthetic Nasi Lemak –for flavorful rice, sweet-spicy sambal chili and chicken wings
Tip: The area is usually packed during lunch time.
Location: 84 Marine Parade Central, Singapore 440084
Opening Hours: Daily: 7:00am to 10:00pm

Katong is the best place to visit if you're looking for a quiet time away from the city. With our list, you'll be able to get the most out of Katong!