Sengkang is slowly becoming one of the popular destinations for not only tourists but locals as well.
Aside from the fun things to do in Sengkang with your families, visitors can also get to enjoy the beautiful sceneries and views of nature.
Since some of you may be clueless on what to do here!
Here's a list we specially curated to help you get the best out of your day or more in Sengkang.
10 Best Things To Do In Sengkang Singapore
Without further ado, let's start with the first thing of the list:
1. Surround Yourself With Nature At Sengkang Riverside Park
Sengkang Riverside Park is a popular park for fitness enthusiasts. Many of the residents come here to jog or run, cycle along the paths or have their daily walks.
Highlights:
Fruit trees trail where you'll find exotic or common fruits such as longan and dragon fruit
Stumble upon many mangrove birds, dragonflies and damselflies
Create your own garden at Allotment Garden
Tip: You could have a picnic in the park as there are many spacious areas.
Location: Anchorvale Street, Singapore 544834
Opening Hours: Daily 24 hours
2. Visit The Sengkang Floating Wetland
Located within the Sengkang Riverside Park, the main objective of this largest man-made wetland in Singapore is to grow mangroves.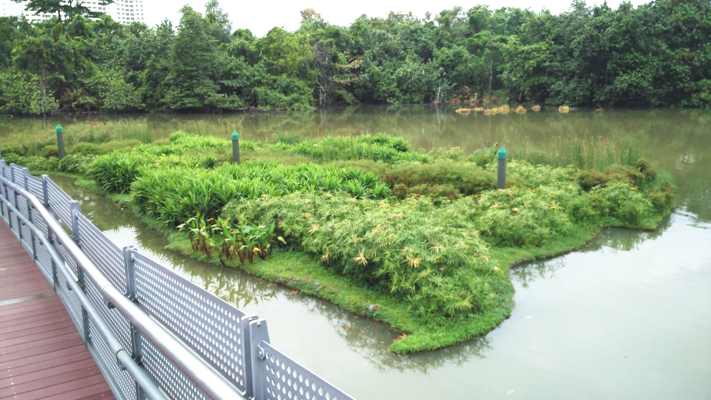 Highlights:
Boardwalks are placed all around for visitors to appreciate the scenic views
The wetland serves as a home for over 18 plants along with fishes and birds
Location: Anchorvale Street, Singapore 544834
Opening Hours: Daily 24 hours
3. Head To Sengkang Swimming Complex For A Swim
Swimming in Sengkang Swimming Complex is one of the common things to do in Sengkang, especially with families.
The great thing about this swimming complex is the various facilities they offer such as slides, jacuzzi and more.
Different types of slides including free fall, twist and speed slide
Special pool and splash areas for kids
Jacuzzi for adults
Tip: If you sign up for an account on Active@SG, you'll receive SGD100 credit which you could use to pay for the entrance fee of the pool.
Location: 57 Anchorvale Rd, Singapore 544964
Opening Hours:
Tuesday to Sunday: 8:00am – 9:30pm
Closed On: Monday
4. Create Cute Crochets With Tiny Rabbit Hole
Creative lovers would agree that visiting Tiny Rabbit Hole is one of the best things to do in Sengkang!
Even if you've never knit anything before, you'll enjoy crafting something that's cute and practical. Plus, you get to keep the crochets!
Highlights:
Crochets you could create including amigurumi, purses, and keychains
Workshops range from beginners to advanced, daily classes or short courses
Reminder: Make sure to look out for the workshops and reserve your spot first here.
Location: 62A Smith Street Level 2, Singapore 058964
Opening Hours:
Tuesday To Friday: 5:00pm – 9:00pm
Saturday and Sunday: 12:00pm – 5:00pm
Closed On: Monday
5. Grab Your Shopping Bags To Shop At Seletar Mall
You can't skip shopping malls in your list of things to do in Sengkang!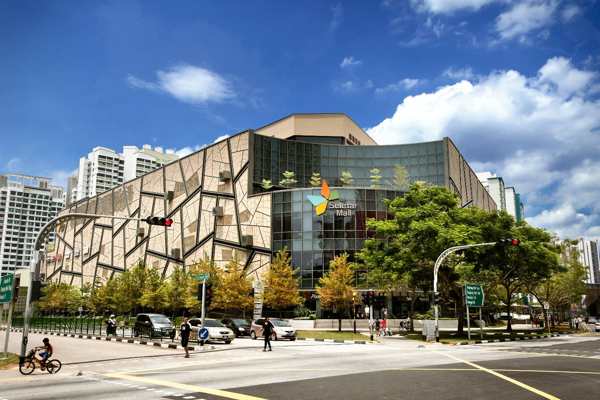 Whether you are into shopping at the many retail stores available in this 6-level shopping complex or simply just to have your meals, Seletar Mall has it all.
Highlights:
A cinema to catch the latest blockbuster movies
Over 20 restaurants to dine in including Haidilao Hot Pot, Din Tai Fung and Soi Thai Soi Nice
Location: 33 Sengkang West Avenue, Singapore 797653
Opening Hours: Daily: 10:00am to 10:00pm
6. Stroll Along Punggol Park And Burn Some Calories
Punggol Park is another great park for residents to have their weekly runs or daily walks. This park is also a perfect spot to bring your bicycles and cycle around.
Highlights:
A playground for children to play
Enjoy fishing while admiring the view of the lake
There's also a place to rent bicycles
Tip: Vending machines are available in case you don't like to carry a water bottle while exercising.
Location: 11 Hougang Avenue 10, Singapore 538768
Opening Hours: Daily: 7:00am to 7:00pm
7. Get Wet While Having Fun At Wild Wild Wet
Known as one of the popular water theme parks, Wild Wild Wet is a place you must go with your families when you're looking for things to do in Sengkang!
There are many cool and fun rides such as Lazy River, Ular-Lar and Vortex
A pool area specially made for kids
A jacuzzi to get a nice relaxing massage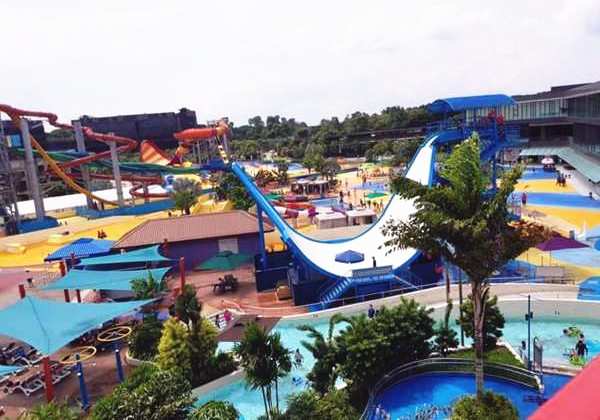 Tip: It's easier to book your tickets online here to prevent the long queues at the counter.
Location: 1 Pasir Ris Cl, Singapore 519599
Opening Hours:
Monday to Fridays: 12:00pm – 6:00pm
Saturday, Sunday & Public Holidays: 10:00am – 6:00pm
8. Explore The Arulmigu Velmurugan Gnanamuneeswarar Temple
For history and culture buffs, you'll appreciate visiting this humble temple in Sengkang.
Though there are many temples all over Singapore, most of the temples have only 1 floor. At this temple, however, there's also the 1st floor.
With its' unique architecture, upon entering, there will be a peaceful and serene atmosphere.
Highlights:
Unlike other temples, the deities are located on the 1st floor
There are also lifts facilities
Location: 50 Rivervale Cres, Singapore 545029
Opening Hours: Daily: 6:30am to 9:30am
9. Feast At Kopitiam Square
Fancy some good food? We can't leave out some great food places from our list! Kopitiam Square has over 50 stalls for you to devour and fill your stomach.
From Japanese, Thai, Korean cuisines, you'll find affordable meals from any of the stalls here.
Highlights:
The best stalls to try out are:
Wanton Noodles (Stall: Pontian Wanton Noodle)
Steamed or Roasted Chicken Rice (Stall: Chicky Fun)
Salted Egg Crab or KL Hokkien Mee (Stall: Pin Wei Fang Zi Char)
Location: 10 Sengkang Square, Kopitiam Square, Singapore 544829
Opening Hours: Daily 24 hours
10. Experience Being A Fireman For A Day
The Sengkang Fire Station is known as the biggest fire station in Singapore. Do you need any more convincing to pay a visit with your kids?
Trust us – your kids would love to visit the station!
Highlights:
Children could experience holding the firehose and more
Several demos by the firefighters including water hose, sliding pole and more
For more information, check out their official website here.
Location: 50 Buangkok Dr, Singapore 545064
Opening Hours: Saturday: 9:00am to 11:00am

With our list, we hope you'll be able to have a great time at Sengkang. While you're exploring Sengkang, don't forget to bring along your camera to take pictures as well!