Seeking to explore further on the various activities and sight-seeing you could do in Sentosa?
There's something for everyone in this not-so-little island that's for family, friends and your significant other!
In this list, you'll find things to do in Sentosa for free, at night and for kids.
Let's kick things off with the free things to do in Sentosa Island:
Things To Do In Sentosa For Free
1. Rest And Chill At The Many Sentosa Beaches
Many seem to think Singapore is just a concrete jungle. What they don't know is that there are many beaches located in Sentosa!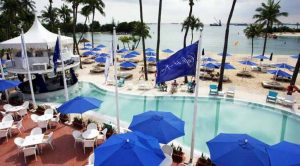 Highlights:
Palawan Beach
a more family-friendly beach
take pictures at suspension bridge
view an animal show at Palawan Amphitheatre
Siloso Beach
a more vibrant, happening beach filled with expats, tourists & locals
play volleyball and other recreational activities
Tanjong Beach
more of a chill, peaceful beach
dogs are allowed to play in this beach
Tip: We recommend staying in one of the resorts such as Siloso Beach Resort to maximise your time at the beach.
2. Walk Along The Fort Siloso Skywalk & Snap Some Photos
To get to the next destination in this list, you could walk along the 181 meters long bridge that is surrounded by many trees.
Highlights:
Several signs explaining history of the island all across the bridge
A panoramic view of Sentosa Island
Tip: Take a walk on this bridge during sunset to see an amazing view.
3. Go Back In Time & Revisit History At Fort Siloso
If you didn't think of putting Fort Siloso in your list of things to do in Sentosa, you should definitely include it! Why?
You'll get to learn all about how soldiers fought during WWII!
Who doesn't love playing with guns and soaking in all the interesting information from the exhibitions?
Highlights:
Wax figurines of soldiers
Interactive video documentaries such as 3D maps and soldiers using AR app
Reminder: It can get pretty hot and sunny during the day, so make sure to prepare an umbrella or something to shield yourself!
4. Unwind From The City Life When You Visit Sentosa Nature Discovery
Tired from all the exciting activities you've been doing all day?
Take a break and enjoy the soothing trails among the flora and fauna.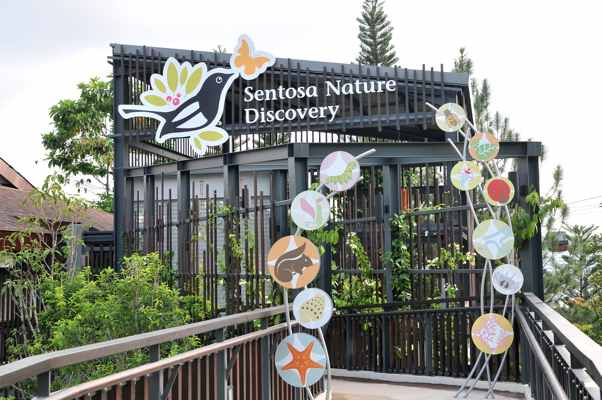 Highlights:
Many walking trails to follow and choose from to experience different types of scenery
If you're lucky enough, you'll spot the Magpie Robin, an endangered species only found in Sentosa!
Tip: You could download the Nature@Sentosa app on your smartphones to get more information on the places you can explore.
5. Gain The Magical Shores Experience On The Beach
Have you ever seen a FREE beach light show?
I bet you haven't!
Encounter the magical experience of light and sound at Siloso Beach.
Highlights:
The 4 different acts – Nocturnal Awakening, Rising Tides, Force of Nature & The Last Dance
Some really cool multi-coloured visual projections that lights up the sky
Reminder: The show only happens during the evenings from 7:30pm to 10:30pm in 15 minutes intervals.
6. Catch The Lake Of Dreams Show
Watch a choreographed show featuring flaming dragons, water cannons and light beams!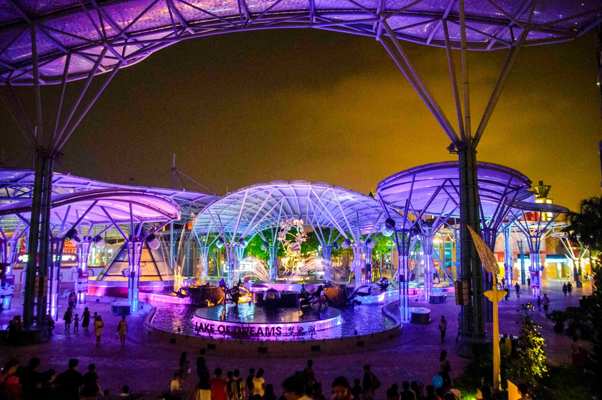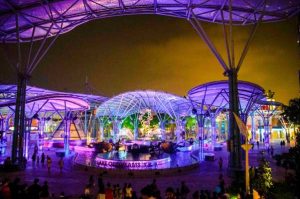 If the show is too late for you, you could always opt to admire the water fountains and have your meals at the surrounding eateries.
Reminder: The show only takes place at 11:00pm every night.
Things To Do In Sentosa At Night
7. Sail Across The Sea On A Yacht With Your Loved Ones
Probably one of the coolest things to do in Sentosa, Royal Albatross offers two types of dinner cruise to choose from!
Having dinner on the sea will truly be a unique experience.
Highlights:
Choose between two types of cruise – Sunset Sail or City Lights
A 3-source dinner served on the yacht
Be entertained by some live music
Reminder:
The cruise is only available in the evening or night. There are specific days and times for families, couples and friends. Visit
this link
to know more.
8. Get A Dose Of Adrenaline At Skyline Luge Sentosa
Are you the type that's not afraid of heights?
This is one of the most fun things to do in Sentosa Island for adrenaline junkies, that's for sure!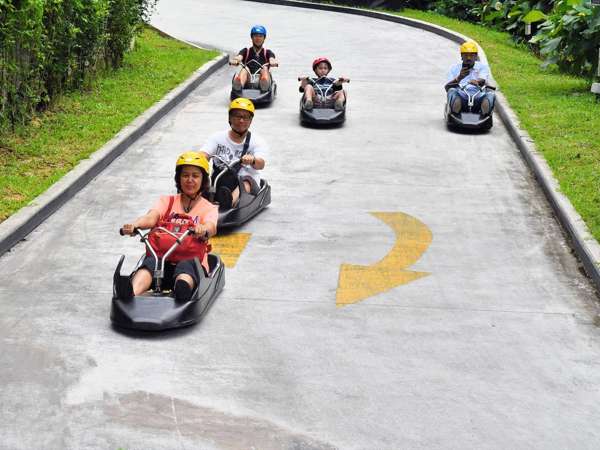 When you ride the Skyride at night, you could watch the sunset or the Wings of Times show!
It's also more exciting if you're riding the luge in the dark.
Highlights:
Luge – ride a three-wheel carrier down different trails
Skyride – dangle your feet up in the air in an open-air chairlift
Tip:
Get your tickets online
here
to avoid the massive queues and view the special offers.
9. Be Mind-blown By The Wings Of Time Show
Among all the light shows in Sentosa, the Wings Of Time is the best show that's truly worth the experience!
This is the only show that has a ticket fee, though.
Highlights:
A combination of lights, water and sound
Amazing fireworks displayed at the end of the show
Tip:
If you catch the earlier show, you could watch the sunset as well. Check the timings out
here
.
10. Drink And Dance The Night Away At Bars Or Clubs
You can't deny the nightlife at Sentosa is insane!
Party at any of the bars and clubs in Sentosa for a wild night!
Most of these bars or clubs are very much alive and full of people.
Highlights:
The best bars and clubs to hang out at are:
Tanjong Beach Club
WooBar at W Sentosa Cove
Ola Beach Club
The Rock Bar @ Hard Rock Hotel
Tip: Consider staying the night at one of the hotels just in case you get really wasted. Better to be safe than sorry!
11. Drop By Madame Tussauds To Surround Yourself With Celebrities
Most people rarely get to meet celebrities in our everyday life. At Madame Tussauds, you could almost feel as if you are meeting a real one!
The museum features life-like figurines made out of wax that really resembles a real person such as Taylor Swift and JJ Lin.
Highlights:
Experience marvel in the 4D cinema
The "Spirit of Singapore" scary boat ride
Tip:
You can get a discount if you buy your tickets online
here
.
Things To Do In Sentosa For Kids
12. Get Your Kids Tricked With 3D Trick Eye Paintings
Have a great laugh with your kids at the 3D Trick Eye Museum when you take pictures of them with unique art and paintings in the background that seem very real!
Highlights:
The exhibits have special features unlike other museums:
Augmented Reality (AR) that brings the painting to life
Augmented Reality Technology (AR:T) that adds sounds, lights and other effects
Check out the ticket prices here.
Tip: Download the Trick Eye app for extra effects!
13. Have A Fun-tastic Day At Universal Studios Singapore
Universal Studios will always be enjoyable to adults and kids! If you're looking for things to do in Sentosa, you can't miss this out!
Highlights:
Revenge of the Mummy – evil mummies and a high-speed roller coaster
Transformers The Ride: The Ultimate 3D Battle – fight against crime with Optimus Prime
Jurassic Park Rapids Adventure – a thrilling river ride where you'll get wet
Tip:
Get express passes to avoid the long queues
here
.
14. View The Sea Creatures At S.E.A Aquarium
Love being surrounded by fishes? Explore the marine life at S.E.A Aquarium!
With more than 1,000 species, you'll be more than happy to bring your kids here.
Highlights:
Free daily shows of animal feeding and more
Special activities and experiences which you can find here
A touch pool where visitors are able to touch marine creatures
Tip: Get your ticket directly from Resorts World Sentosa for exclusive benefits
15. Adventure Cove – The Place To Be For Rides & Marine Life
Unlike the S.E.A aquarium, sure you'll see marine creatures there – but at Adventure Cove, you'll get to even snorkel with them!
From fast-paced slides and rides to chilling at the pool, you'll have tons of things to do here.
Highlights:
Snorkel with over 20,000 fishes
Relax on the lazy river
Swim with the dolphins
For more exclusive special activities, visit their site here.
Tip:
It's cheaper to get some of the annual passes, including the family one. Check them out
here
.
16. Fly High In The Sky With iFly
Want to experience skydiving but never had the guts to do it? It's okay – just experience skydiving at iFly instead!
Fly as high as 5 storeys in the air through an acrylic glass, enabling you to view the South China Sea while you're all the way up there.
Tip:
Look out for on-going promotions
here
for a cheaper price.
17. Get Your Kids Prepped For The Future At KidZania
If you have kids, then KidZania is one of the most kid-friendly things to do in Sentosa Island!
Your kids will have tons of fun, on top of learning social skills and gaining some educational knowledge.
Roleplay any occupation such as pilot and more
Your kids will learn some basic skills that are good for their career
Tip: Book your tickets early to secure a spot as tickets get sold out quick.
18. Ride The Sentosa Line Cable Car For A Panoramic View Of Sentosa
It can be really relaxing to just sit back at the end of the day and relax while sitting in a cable car gliding over the mountains, sea and sand of Sentosa.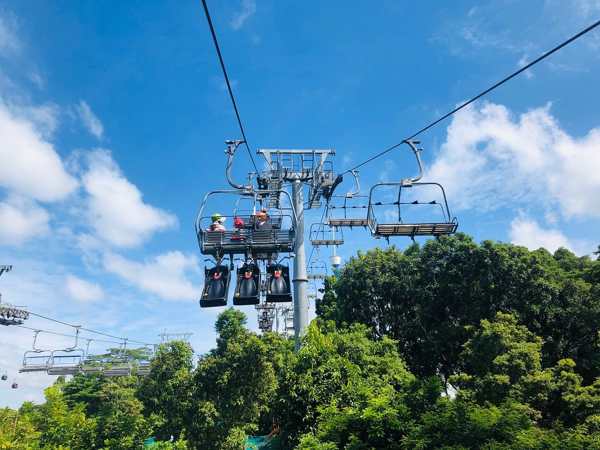 Highlight:
There are two cable car lines – Mouth Faber and Sentosa line where you can plan your itinerary based on the stations available.
Check the stations here: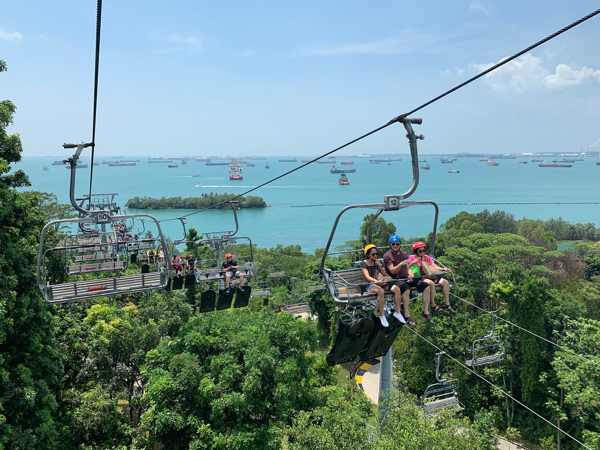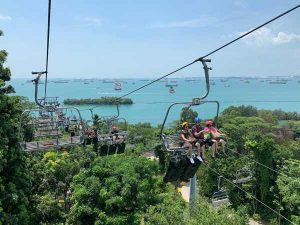 Tip: The best time to ride the cable car would be during the evening to catch the sunset or at night to see the serene dark sky.
19. Let Your Kids Play In Nestopia Singapore, An Outdoor Playground
Located at Siloso point, when you're looking for things to do in Sentosa to occupy your kids while you relax and watch them play, Nestopia is the place for you!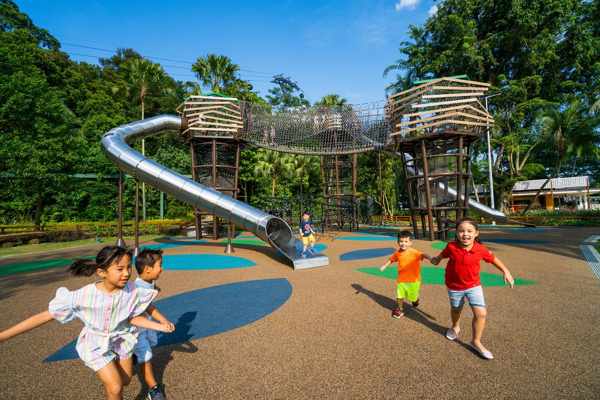 Highlights:
Over 17 sections for your kids to play, from nests to slides and mazes
An Italian restaurant Trapizza for good pizza nearby
Books and colouring pencils in the small huts
Water play area for younger kids
Reminder:
Nestopia is best for kids aged 5 years and above.
You'll probably spend more than 3 days in Sentosa after reviewing this list!
Start packing and head over to Sentosa Island for an action-packed adventure!