Looking for a new place to explore during your free time?
No matter if you're a foreigner or a Singaporean, you should not miss Tampines, an emerging tourist spot!
Get your itinerary ready and take note of the best things to do in Tampines Singapore!
Start your journey exploring Tampines with the first thing off our list:
11 Best Things To Do In Tampines Singapore
1.  Go On A Shopping Spree At The Popular Malls In Tampines
Now, who doesn't love to splurge on clothes and shoes?
Shopping is a necessity for everyone, you'll be happy to know that in Tampines, there is more than 1 shopping mall!
Highlight:
Tampines Mall (recommended for the young at heart)
Century Square (best to visit on the weekends)
Our Tampines Hub (great for families with kids)
Tampines 1 (visit if you prefer a wide range of food)
Location:
Tampines Mall: 4 Tampines Central 5, Singapore 529510
Century Square: 2 Tampines Central 5, Century Square, Singapore 529509
Our Tampines Hub: 1 Tampines Walk, Singapore 520858
Tampines 1: 10 Tampines Central 1, #05-35, Singapore 529536
Opening Hours:
Tampines Mall: Daily 10:00am to 10:00pm
Century Square: Daily 10:00am to 10:00pm
Our Tampines Hub: Daily 24 hours
Tampines 1: Daily 10:00am to 10:00pm
2. Shed Some Fat At Tampines Eco Green Park
If you're the type that loves the outdoors, the Tampines Eco Green park would be the best place to get your daily exercise!
With a rough estimation of 3km, you could cover the whole park within 2 hours!
Of course, it'll be shorter if you choose to jog or run.
Highlight:
3 different trails to walk on (Diversity Trail, Forest Trail, Marsh Trail)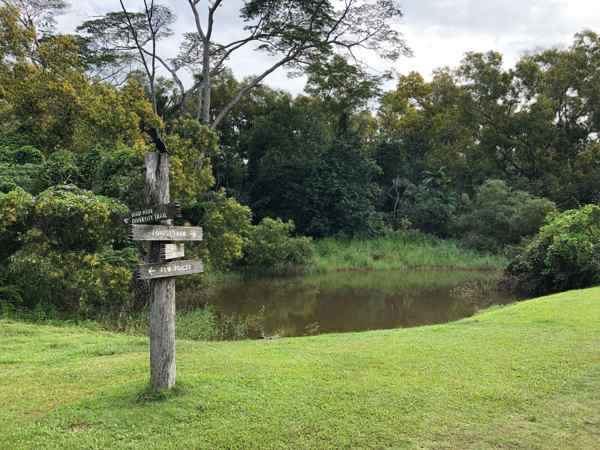 See the many species of birds, dragonflies, butterflies and spiders
The park also features vegetated swales, bird hides and an eco-toilet
Tip: Butterflies can be spotted along the forest trail. For dragonflies, walk around the diversity trail.
Location: Tampines Avenue 9, Singapore, 520491
Opening Hours: Daily: 7:30am to 7:30pm
3. Go On A Hike At Tampines Quarry
Whether you love hiking or not, you should definitely consider visiting this lake!
You could simply walk around when you just need some fresh air if hiking isn't your cup of tea.
Highlight:
Fishing by the lake
Catch some residents with motor race radio-controlled (RC) boats
Cycle along the trails
Tip: Visit during the sunset for a beautiful view of the lake and sky.
Location: Tampines Ave 10, Singapore, 520491
4. Feast At Tampines Round Market & Food Centre
Stuff your tummy with the unlimited choices of food available at this hawker center!
From famous local dishes such as char kuay teow to thosai, you can find all of the different cuisines here.
Highlight:
Dumpling noodle @ Stall #01-05
Plain Thosai @ Stall #01-33
Lontong @ Stall #01-36
Location: 137 Tampines Street 11, Singapore 522137
Opening Hours: Daily: 6:30am to 3:00pm
5. Take Insta-worthy Pictures At Tampines Central Park
Famous for being designed as a fruit-themed playground, snap a few insta-worthy pictures with mangosteens and watermelons!
Not forgetting actually playing in the park other than taking pictures at the 2 different playgrounds with slides.
Location: Tampines Street 83, Singapore 522857
Opening Hours: Daily 24 hours
6. Put On Your Sports Shoes & Pay A Visit To Sun Plaza Park
Popular for family activities and sports fans, unlike other parks, there are many activities other than jogging and walking at this park.
Outdoor concerts, large exhibitions and even performances are regularly held at the amphitheater.
Highlight:
An amphitheatre for large social gatherings or events
Sense Discovery Garden containing 10 interactive play stations
Test your skills at the Beach Ball court
Visit Singapore's very first Woodball course near the entrance of Gate 5
Tip: Visit the park in March/April or August/September to see all the trees turn into pretty pink blooms, especially when it rains heavily.
Location: Tampines Avenue 7, Tampines Avenue 9 Singapore
Opening Hours: Daily 24 hours
7. Embrace Your Inner Child In Timezone
When you're itching for some family time, especially with your kids, head over to Timezone located in Our Tampines Hub for a family-filled adventure!
There are endless choices for you to occupy your kids with, including yourself!
Highlight:
The classic bumper car with LED-lit cars
Mini bowling alley to sharpen your bowling skills (with tiny bowling balls!)
Challenge yourself with the many claw games
Location: Our Tampines Hub, Tampines Walk, #B1-13 Singapore 528523
Opening Hours: Daily: 11:30am to 9:30pm
8. Explore Tampines Changkat Butterfly Garden
Love being surrounded by nature?
Well, you should definitely add this to your list of things to do in Tampines!
Known as the mini version of "Gardens by the Bay", be exposed to greenery with the pretty butterflies flying around you.
Careful not to clap or catch these butterflies as it may harm them!
Tip: Drop by the garden either in the early morning or late afternoon.
Location: 124 Tampines Street 11 Tampines Court 11, Singapore 521124
Opening Hours: Daily 24 hours
9. Visit The Historical Tampines Chinese Temple
You can't miss visiting Chinese temples when you're in Singapore!
These temples are made to promote harmony and peace, so be sure to check this temple out when you're looking for things to do in Tampines!
Highlight:
The 270-meter-long dragon sculpture
Take a look at the 8 shrines
Location: 25 Tampines Street 21, Singapore 529394
Opening Hours: Daily: 6:30am to 8:30pm
10. Bring Out Your Inner Nerd At Tampines Regional Library
Doesn't matter if you're a kid, young or old, the books are catered to all age groups!
Not to mention it is extremely spacious so you'll have plenty of space to read or study.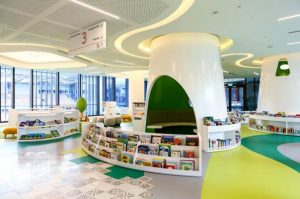 There are also terraces located in Level 4 & 5 covered with comfortable cushion seats for extreme comfort.
Highlight:
Burn calories while you read a good book on the exercise bike
A two-floor dedicated children section
Indoor kid's playground for kids to have fun
Tip: Be sure to arrive at the library before they open its doors at 10:00am to get a good seat!
Location: 1 Tampines Walk, #02-01, Singapore 529684
Opening Hours: Daily: 10:00am to 9:00pm
11. Go On A Fun Adventure & Drop By HomeTeamNS
This would probably be one of the most fun things to do in Tampines!
Why?
An indoor climbing theme park is located right here!
Not only that, but there are also plenty of other activities such as laser tag and many more to get your heart pumping.
Highlight:
Climb away at Clip 'N Climb, an indoor climbing
A futsal court for futsal enthusiasts
Train your muscle at the Fitness Workz Gym
Interactive indoor playground for Kids
Location: 1 Tampines Walk, #03-03 Our Tampines Hub, Singapore 528523
Opening Hours:
Sunday to Thursday: 10:00am – 9:00pm
Friday to Saturday: 10:00am – 11:00pm

With our list, we hope we managed to convince you to check out Tampines for your next holiday!
Forget the mainstream tourist destinations such as Orchard Road and Sentosa Island, grab your bags and hop on the next bus or train to Tampines!