If you're stuck in a layover at Changi Airport, or you just simply have a lot of free time in your hands – Changi Airport isn't voted the best airport in the world for nothing!
With 3 terminals and a special section called Jewel, explore the endless activities and things to do in Changi Airport!
Don't worry about having to miss any of these activities as there are SkyTrains that take you anywhere in the airport.
Without further ado, check out this awesome list and get ready for an adventure!
What To Do In Changi Airport: 20 Best Places To Visit
1. Get Your Heart Pumping At Canopy Park
You think you're done exploring the many things to do in Changi Airport? You're wrong, friend!
Located on Level 5, this park is not like the regular parks you see outside.
Canopy Park is fully air-conditioned with many exciting attractions inside!
Highlights:
The discovery slides that feature 4 different slides: Family slide, Drop slide, 2 spiral slides
Foggy Bowls where a misty cloud appears from the ground
Petal Garden filled with a variety of flowers
Topiary Walk with unique animal sculptures
Note: There's a small fee of SGD5 that includes all the featured highlight attractions.
Terminal: Jewel, Level 5
2. Experience The Rain Vortex At Night & Catch The Light & Sound Show
While you're exploring the Forest Valley, make sure to stay until night time to catch the light & sound show!
We can guarantee you will be starstruck looking at the world's tallest indoor waterfall, standing at 130 feet high!
No matter if you visit the Rain Vortex during the day or night, watch how the beautiful water simmers down in the middle of Jewel.
Note:
Light & Sound Show that only happens at night, hourly. Be sure to check out the timings here.
It's free! Plus, the Light & Sound Show only lasts for 5 minutes.
Tip: Stand at the South Viewing Platform at Level 2 to get the best view of the Rain Vortex.
Terminal: Jewel, in the middle of Forest Valley (Every level)
3. Take Some Selfies With Butterflies In The Butterfly Garden
You can't miss seeing the world's first butterfly garden in the airport!
Be surrounded by plants, lavish greenery, and the many tropical butterflies all around you.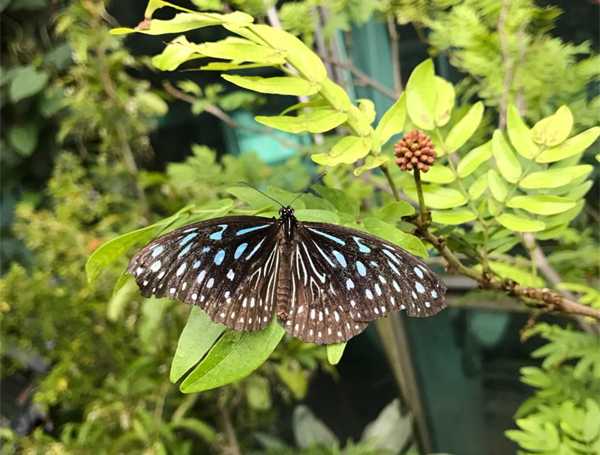 Highlights:
6-meter grotto waterfall
educational corner for breeding and hatching of butterflies
Tip: Look out for their signature plants Red Powderpuff, Egyptian Star Cluster and Indian Holly.
Terminal: 3, Level 2 & 3
4. Brighten Up Your Day By Being In A Sunflower Garden
Want to feel a ray of sunshine and happiness while thinking of things to do in Singapore Airport?
Head over to the Sunflower Garden where you can fill your eyes with over 2,000 sunflowers!
Highlight:
Fantastic view of the runway and parking bays of aircrafts
Tip: Go during the day to view the beauty of the sunflowers
Terminal: 2 (Level 3)
5. Be Blown Away By The Beauty Of Kinetic Rain Sculpture
Get hypnotized for as long as 15 minutes by watching copper-plated aluminium droplets that resemble a raindrop creating over 16 different animations and shapes.
Highlights:
Spot the different shapes such as hot air balloon or a dragon
The raindrops represent the airport staff working together in Changi Airport
Reminder: Don't lose track of time as you probably can't help but to spend hours watching it.
Terminal: 1 (Level 2)
6. Unwind With A Free Massage At The Airport
Fancy some massage after a long flight?
There are plenty of free foot massage machines throughout the airport, so make sure to include this in your list of things to do in Singapore Airport!
Highlights:
Full Body Massage (Terminal 3)
Foot Massage (Terminal 1, 2 & 3)
Terminal: 1, 2 and 3
7. Submerge Yourself In A Forest At Forest Valley
After all the excitement and adventure, if you're still trying to decide what to do in Changi Airport, take some time out to surround yourself in lush greenery and explore the beautiful garden!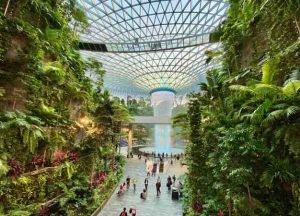 Highlights:
Two walking trails available for you to hike or take a relaxing walk
More than 900 breath-taking trees as well as palms, including over 60,000 shrubs surrounding the forest
Reminder: Don't bring along your luggage or bags with wheels as they are prohibited. Leave them at the baggage storage provided.
Terminal: Jewel
8. Find Your Way In The Hedge Maze & Mirror Maze
This is absolutely fun if you're looking for a challenge – in the mirror maze, you can't tell where the other person is because there are mirrors everywhere!
When you have many hours to spare, you could easily spend a few hours in the Hedge Maze, so you won't need to find what to do in Changi Airport to kill more time.
Highlights:
Moving flowers in the Hedge maze
The Mirror Maze creates an illusion reflections
Note: Hedge Maze costs SGD12 and Mirror Maze costs SGD15. These entrance tickets provide free entrance to Canopy Park.
Terminal: Jewel, Level 5
9. Kill Some Time With Some Games In The Entertainment Deck
Now, this is something you wouldn't expect to have in an airport.
When looking for things to do in Changi Airport, you can't miss the chance to play games or watch a free movie!
And yes, it's all for free!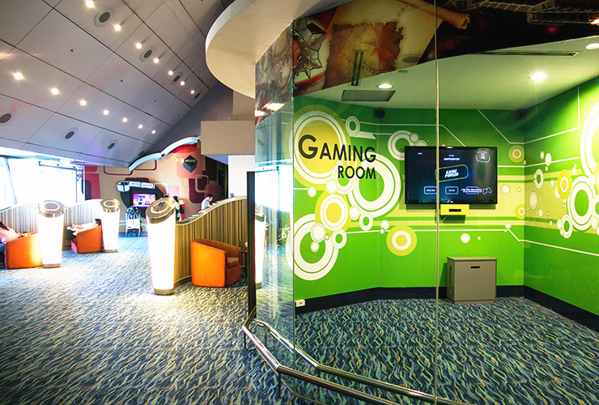 Highlights:
PS3 station
Minecraft
Xbox 360
Xbox Kinect Room (where you can move around!)
Movie Theatre
Terminal: 2 (Level 3, beside Sunflower Garden)
10. Take Quick Dip In A Rooftop Swimming Pool & Relax In A Jacuzzi
Located right at the top is a fantastic swimming pool area, with a Jacuzzi, that is open to hotel guests (who get to enjoy it for free) or any transit passengers!
Highlights:
Non-alcoholic drink from the bar
Shower facilities
Reminder: If you're not a guest at the hotel, you'll have to pay a fee of $13.91. You don't have to bring your own towels as they provide them as well.
Terminal: 1
11. Get Some Shut-eye At The Snooze Lounges
If you're looking for a better option to catch up on sleep without spending money on hotels, head over to the many snooze lounges available all around the airport.
The best thing about it? It's absolutely free of charge!
Note: These snooze lounges are only available in Transit areas only.
Terminal: 1, 2, 3 & 4
12. Walk Or Bounce Away On Manulife Sky Nets
Feeling overwhelmed yet?
Well, there are still way more things to do in Changi Airport – including this 25 meters net where you could choose to either walk or bounce on!
Reminder: There are separate fees for either bouncing or walking.
Bouncing – SGD22
Walking – SGD 15
Both of these entrance tickets provide a free entrance to Canopy Park.
Terminal: Jewel, Level 5
13. Experience Walking On Clouds At Canopy Bridge
Get some exercise while taking in the views of the park at the canopy bridge!
From a height of 23m, view the beauty of the Rain Vortex and the Forest Valley below you.
Highlight:
You will feel like you're walking on clouds with mist surrounding you
The entire floor of the bridge is made out of glass panels
Note: A fee of SGD8 is required to enjoy the Canopy Bridge. This does not include a free entrance to Canopy Park. You are also allowed to only spend a maximum of 30 minutes on the bridge.
Terminal: Jewel, Level 5
14. Visit Xperience Zone To Not Miss Any Sports, Current News Or Events
Calling out all sports fans!
Don't miss a single match or game even while in transit!
This zone is especially dedicated for sports enthusiasts as they provide many sports matches and more.
Highlights:
Comfortable Plush Seats
Send an e-Postcard to your friends and family
Terminal: 2, Level
15. Soak In The Sun With The Cactuses In The Cactus Garden
Have a thing for cactuses?
Whether you do or don't, you'll be blown away by the different kinds of cactuses, with over 100 species from Asia, Africa and many more!
Highlights:
Have a drink at the pub
Take a look at their signature plants such as Barrel Cactus, Sago Palm and Century Plant
Tip: Avoid going out during the day as it gets very humid. Try visiting in the evening instead.
Terminal: 1, Level 3
16. Splurge Your Money On Duty-Free Shopping
Housing over 180 brands, there are plenty of choices for you to choose what to spend on!
From luxury brands to premium wine products, rest assured there will be something for you to buy.
Highlights:
For Cosmetics, Perfumes, Skincare
The Shilla Duty Free with more than 140 international brands (Terminal 1- 4)
For Branded Timepieces
Gassan Watch (Terminal 2)
For Wines
DFS Wines & Spirits (Terminal 1 – 4)
DFS Vintage (Terminal 3)
Tip: Bring along your boarding pass! You will be entitled to boarding pass privileges if you fly with Singapore Airlines.
Terminal: 1, 2, 3 & 4
17. Discover The Fun Attractions In Changi Experience Studio
Spend an interactive journey at the Changi Experience Studio!
You won't run out of ideas on what to do in Changi Airport when you visit this studio.
Highlights:
Make some music with just moving your arms at the Garden Of Harmony
Simulation race between a Porsche and a Boeing
Backstage and Arena where you to roleplay as an airport staff and many more behind the scenes of Changi Airport
Note: There are specific time slots for different admission, though there are no limits to how long you can spend your time there.
Terminal: Jewel, Level 4
18. Satisfy Your Tummy At Singapore Street Food Court
Indulge yourself in the various local meals ranging from Nasi lemak to Bak Kut Teh!
Not only that, but there are also halal food and even options for 15-minutes quick meals.
The list of food courts available are:
Open to Public
Kopitiam (Terminal 3, Basement 2 – Open 24 hrs)
Transit Only
Singapore Food Street (Terminal 3, Level 3, Departure Lounge)
Straits Food Village (Terminal 2, Level 3, Departure Lounge)
Tip: You can use your boarding pass to get some discounts when flying with Singapore Airlines.
Terminal: 1, 2 & 3
19. Head Over To The Movie Theatre For A Free Movie Marathon
If games aren't your cup of tea and you love a good movie, Changi Airport provides even blockbuster films!
Yes – you saw it right! It's free, and there are TWO movie theatres available in Changi Airport.
Watch a movie (or more) for FREE! What's even better? They are open 24 hours!
Terminal: 2 (Level 3, next to Sunflower Garden) & 3 (Level 3, near Ambassador Transit Lounge)
20. Hop-On A Free Singapore Tour
Figuring out what to do in Changi Airport?
Don't want to stay stuck in an airport all day?
Visit the unlimited attractions in Singapore on a free tour!
Highlights – choose between 3 different tours:
Jewel Tour
Heritage Tour (includes Chinatown, Little India, Merlion Park)
City Sights Tour (includes Marina Bay Sands, Gardens by the Bay)
Note:
This free tour applies if
You're a transiting passenger of Changi Airport
Your layover period is less than 24 hours with a minimum of 5.5 hours
Your flight is aligned with the tour timings. You can check it out here.
Terminal: 2 & 3

So if you've ever wondered what to do in Changi Airport, you probably will not have enough time to cover the whole of Changi Airport due to the comprehensive long list of activities!