It was barely even mid-week and yet I was looking forward to my weekend trip to JB!
This trip would be special because I had plans to dine at Ya Wang JB who is *drum roll*…the consultant to the famous Dian Xiao Er restaurant in Singapore!
Ya Wang which also means King of Duck serves the best roasted duck in JB.
Why is it so special?
Read on and you will find out exactly why this dish is so popular!
Ya Wang JB
Restoran Ya Wang is strategically located on Jalan Segget, off-the-road of Jalan Wong Ah Fook and just 6 minutes' walk away from JB City Square.
The reason why people frequent JB Ya Wang is because of their signature dish, namely their HERBAL ROASTED DUCK (double thumbs up!)
Compared to other shops which sell roasted duck, their dish stands out because:
It is doused with Angelica Herb gravy which gives its that special oomph to their roasted duck
It has Ten Wonder Herbs gravy option which is just as spectacular
Its meat is tender and juicy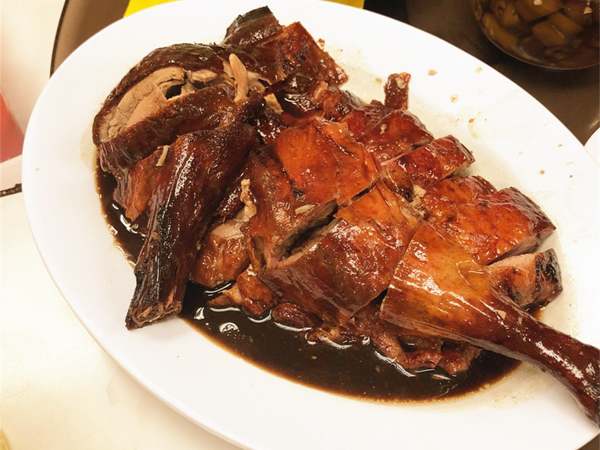 Also read: 21 Cheap & Good Food Near JB City Square
While you are there, top your taste bud experience with other meat dishes such as their sweet caramelized char roast meat (char siew) and crispy aromatic roasted pork (siu yoke).
They also serve wonton noodles (springy egg noodles served in a special made sauce), thick noodles (hor fun) and fried rice that compliments well with the meat dishes.
Other worth to try dishes are their roasted crispy skinned chicken, claypot beancurd served with seafood and vegetables in savoury sauce,
Tips:
Although the restaurant outlook is old, it is air-conditioned which makes it comfortable to dine in.
Go an hour before lunch time to avoid the crowd.
Bring as many friends along because there are only the options of half or whole duck for their signature Angelica Roasted Duck and Ten Wonder Herb.
Their normal crispy roast duck (non-herbal) may taste a little bland for some
Ya Wang JB Price
| No. | Menu | Price (RM) | Price (SGD) approx. |
| --- | --- | --- | --- |
| 1. | Roasted Duck with Angelica Herb (Half) | 33 | 10.70 |
| 2. | Roasted Duck with Ten Wonder Herbs (Whole) | 64 | 20.80 |
| 3. | Roasted Duck with Ten Wonder Herbs (Half) | 34 | 11.00 |
| 4. | Roasted Duck with Angelica Herb (Whole) | 66 | 21.50 |
| 5. | Pipa Roasted Duck (Half) | 29 | 9.50 |
| 6. | Pipa Roasted Duck (Whole) | 56 | 18.20 |
| 7. | Roasted Pork (Siu Yoke) – 1kg | 80 | 26 |
| 8. | Char Pork (Char Siu) – 1kg | 75 | 24.30 |
| 9. | Roasted Chicken (Half) – 1kg | 16 | 5.20 |
| 10. | Roasted Chicken (Whole) – 1kg | 32 | 10.40 |
| 11. | Wonton Noodles | 1.50 | 0.50 |
Note: 1-2 pax option is available with price ranging from RM5 to RM22 (SGD 1.70 to SGD 7.20) for single meat type or mixed meat variety.
Ya Wang JB Opening Hours
Daily 8:00am – 6:00pm
Ya Wang JB Location (Map)
Exact location shown in the map below:
28, Jalan Segget, Bandar Johor Bahru, 80000 Johor Bahru, Johor, Malaysia
Location: https://bit.ly/RestoranYaWang
Ya Wang JB FAQ
Q1: Is duck served in Ya Wang JB Halal?
A1: No, it is Non-Halal
Q2: What to eat near JB City Square?
A2: Other than Ya Wang's famous herbal roasted duck, you should also try the popular curry fish head at Kam Long restaurant or take-away the aromatic banana cake JB at Hiap Joo Bakery & Biscuit Factory.
For more options on what to eat near JB City Square, you may refer to this link.
Q3: How To Go Ya Wang JB?
A3: Restoran Ya Wang JB will just take you around 6 minutes' walk from City Square JB:-
From City Square JB entrance – turn left into Jalan Wong Ah Fook
Go straight along Jalan Wong Ah Fook (you will pass by Kam Long Curry Fish Head restaurant on your left)
Turn right at the junction into Jalan Segget
Walk straight and you will find Ya Wang JB on your right
You Might Also Like: