Planning for a weekend getaway or want a whole house large enough for that smashing party or you just couldn't spend a fortune in hotels for your events in Johor Bahru?
This is the best option to rent a homestay! Either you're travelling solo, with your family, planning for your wedding or hosting business events, these homestays are bound to satisfy you with each of their own uniqueness.
Homestays are presently an uprising cool accommodation in the market that provides larger spaces, serves similar facilities and amenities as a hotel, doesn't burn a hole in your pocket and of course privacy- you get the whole place to yourself! How amazing is that?
Don't believe it? Then check out all this cool, quaint, unique and adorable homestays that we have in store for you!
Homestay near to LEGOLAND
1. Pang & Jessie Afiniti Homestay
Can't find a stylish yet inexpensive place to stay while vacationing in Johor Bahru? Why not try out Pang & Jessie Afiniti Homestay with amenities provided cater to make you feel at home while away from home.
Not to mention the rooms are decorated beautifully with colourful themes that will surely capture you and your children's heart.
Homestay Highlight:
Swimming pool
Gym
Microwave
7-Eleven
Rooftop resting area
Refrigerator
Free unlimited Wi-Fi for the entire unit
Basic kitchen utilities provided
24 hours security
The car park is free and safe
Good To Know:
You can enjoy the beautiful view of Legoland from the living room
Provide transport services
Maximum accommodation for the unit is up to 5 guests
12 minutes walk (1km) to Legoland Malaysia
Iron, hairdryer, hangers and etc are provided
Washing machine provided
Full access to the facility with an access card
Early check-in is available with no cost if no guest is staying on the previous day
Pang & Jessie Afiniti Homestay
Address: Afiniti Residensi, Jalan Medini Utara 4, Bandar Medini Iskandar, 79200 Nusajaya, Johor, Malaysia.
Airbnb
2. The Kiddy Palace Homestay
Interested to go for a family quality time at Legoland Malaysia but doesn't want to stay in a hotel? The Kiddy Palace Homestay is a great place for you to spend your vacation, and it is as good as a hotel plus it is not costly.
Also read: The 9 Best & New Hotels In Johor Bahru 2018 & 2019
Homestay Highlight:
Swimming pool
Flat-screen 40" TV
Strategically located near the expressway
Free Wi-Fi
Gym
Electric Kettle
Microwave
Themed homestay
Hairdryer
Iron
Washing machine
Good To Know:
Check-in anytime after 3pm.
3 minutes drive to Legoland Malaysia.
Guests are allowed to enter the facilities with access card.
Free private parking.
They provide transport service from Singapore to homestay and vice versa.
Essentials: Towels, bed sheets, shower gel, shampoo, toilet paper, and hand soap are provided
Any parties, smoking and pets are not allowed in the homestay.
The Kiddy Palace Homestay
Location: Jalan Legoland, Bandar Medini Iskandar Malaysia, Johor, 79250 Nusajaya
Airbnb
3. Rooftalk at Nusajaya
Set sail in the first nautical theme rooms in Nusajaya filled with exciting entertainment, spacious and clean rooms that are a great opportunity for all travellers to share their travelling experiences.
Smack right in the middle of the most happening street, Rooftalk at Nusajaya is definitely the talk of the town!
Homestay Highlight:
Provide board games, darts and other light entertainment
DVD player and TV
Nautical themes style rooms
Comes in a different type of rooms; captain single room, sailor premium dorm, maritime triple room, captain queen room, anchor twin room, sailor dorm
Rain-head showers
Free coffee/tea making facilities
Wi-Fi
Reading corner for in-house guests
Beanbag to lounge and relax
Good To Know:
A "Dream Wall" for travellers to share their dreams and other passions
Get to lounge at the common area and meet new travellers
Lockers are provided to keep your belongings safe
Towels and bed linens are provided too
Rooftalk at Nusajaya
Address:  32-02, Jalan Besari 7/2, Taman Nusa Bestari, 81200 Johor Bahru, Johor, Malaysia
Contact: +607-244 7158
Email:
[email protected]
4. Kitolo Homestay
Want a big break from the city? Kitolo Homestay comes with unique design interior that is subtle and minimalizes, thus giving that warm feeling of serenity.
Also read: 11 Best Homestay Near Legoland Malaysia
Convenient, clean, spacious and cozy- what more can you ask for? This is the ideal family weekend gateway.
Homestay Highlight:
Swimming pool
Gym access
Kids playground
Tennis court
Fully-equipped kitchen
Features sauna
Good To Know:
Features different apartment style that is suitable for all families; The Seed at Sutera Utama, 1 Medini at Medini area, Twin Galaxy and JB Town.
May get an additional discount for more than 2 days of stay
3 minutes drive to Legoland
5 minutes drive to Hello Kitty Theme Park, Puteri Harbour and Pinewood
The lobby has nice café to lounge and chill
Kitolo Homestay
Address:  A-08-W3, 1 Medini Residences, Nusajaya, 79000 Johor Bahru, Johor, Malaysia
Contact: +6016-791 9888
5. Holi Afiniti Themed Suites
Looking for a place to stay near to Legoland that comes with great amenities and convenience but doesn't want something over the budget? Holi Afiniti boasts amazing multi-style themes featuring film stars, famous singers, cartoon characters and many more.
Also read: 15 Best Hotels Near Legoland Malaysia
This homestay is not only affordable but also spacious and comfortable so that you and your family can truly enjoy your holiday!
Homestay Highlight:
Infinity Swimming pool
Gym
Beautiful landscape
Children playground
Open BBQ space
Children's playground
24 hours security
10 minutes walk to Legoland
Good To Know:
Provide transport service from Changi Airport, Senai Airport to Afiniti Residence at a fee
Stunning view from the rooftop infinity pool
Studio concept
Holi Afiniti Theme Suites
Address: Afiniti Residensi, Jalan Medini Utara 4, Bandar Medini Iskandar Malaysia, Johor Bahru, Malaysia
Contact: +6013-306 3331
Homestay in Bukit Indah
1. Eco Haus Homestay
Stay in a home-away-from-home at Eco Haus Homestay that was recently rated top 10 as Johor Bahru vacation home. Along with its strategic location, you can get to any attractions such as Iskandar Medini, Hello Kitty Theme Park and Legoland in just mere minutes!
Homestay Highlight:
5 bedrooms 3 bathrooms
Easy access to Singapore-Johor border
11 minutes drive to Malaysian/Singapore custom
5 minutes drive to Legoland
Near to delicious café and restaurant for every meal
Wireless internet
Handicap accessible
Good place for family or friends gathering and parties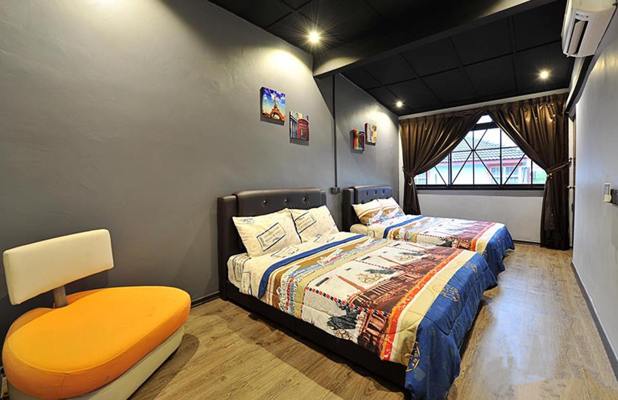 Good To Know:
Beautiful garden for outdoor parties
Spacious for 14 guests
Easy check-in and check-out system
Security deposit paid upon check-in
Provide Singapore-JB transfer service
Airport transfer
Private tour of Singapore and Malaysia
Surrounded with Japanese Garden mix with tropical rainforest plants
Eco Haus Homestay
Address:  No 61, Jalan Indah 12/8 Taman Bukit Indah, Johor Bahru, Johor, Malaysia
Contact: +6016-868 2576
2. JB Homeland Dreamland
Getaway from the hustle and bustle of the city and rejuvenate at this cozy and perfect homestay centrally located at the heart of Bukit Indah. This bed and breakfast vacation will provide all the necessary comfort and leisure.
Also read: 7 Best Hotels in Bukit Indah, Johor Bahru
Homestay Highlight:
Covered Parking space
Swimming Pool
Outdoor and Indoor Gymnasium
Jogging Track
Children Playground
24-hour Security System.
Wireless internet
Two bedrooms with queen-size bed
2 bathrooms with water heater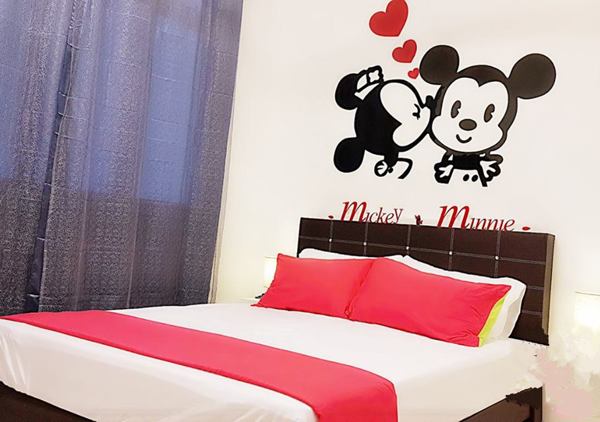 Good To Know:
5 minutes drive to Bukit Indah Jusco, Tesco and Giant
10 minutes drive to Legoland Theme Park, Hello Kitty Theme Park, Edu City, Puteri Harbour, Pinewood and Forest City
There's a refundable security deposit
Tight security that requires an access card to enter
Kitchen is well-equipped
Flexible with check-in and check-out time
JB Homeland Dreamland
Address:  Taman Bukit Indah, 81200 Johor Bahru, Malaysia
Contact: +6011-1152 6606
3. Homestay Bukit Indah (JB Home2U)
Planning for a family or friends gathering, or a place to celebrate a grand party? Homestay Bukit Indah has a large compound of 4200 sqf. This vacation home is the ideal place to have fun!
Homestay Highlight:
Can accommodate up to 20 people
6 bedrooms
Big outdoor garden
Fishpond
Outdoor relaxing armchair
CCTV for safety
Wi-Fi access
DVD player
2 sets of kitchen (outdoor and indoor)
Good To Know:
Fishpond is 5 ft deep, so it is best to have an adult guidance when looking at the pond
Suitable for wedding events too
Kids and baby friendly
Very close to Aeon Bukit Indah
10 minutes drive to the famous attractions; Hello Kitty Theme Park, Orang Asli Seafood Village and Legoland
20 minutes drive to Johor Premium Outlet, CIQ Custom and Angry Bird Activity Park
Homestay Bukit Indah (JB Home 2U)
Address:  46, Jalan Indah 10/11, Taman Bukit Indah, 81200 Johor Bahru, Johor, Malaysia
Contact: +6016-567 0888
4. I Homestay
This homestay has cute, 3D murals that you can take pictures whilst posing at your best. This is a great place to relax and enjoy your weekends with good food and shopping malls surrounding this homestay.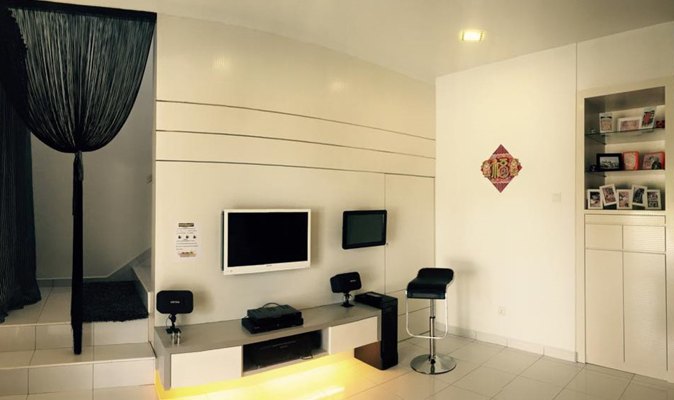 Homestay Highlight:
3 bedrooms
Can accommodate up to 15 people
BMB Karaoke system
Disco light decorations
Spacious carparks, able to park 2 MPV
Wi-FI access
Provide games such as; chess, mahjong
Provide computer for guest to use
Also read: 7 Affordable Homestay In Bukit Indah With Great Reviews
Good To Know:
4 minutes drive to AEON Bukit Indah shopping mall
Minutes away from restaurant and café
All shower room is equipped with water heater
Able to assist in event decorations
A fence has a few locks with memories written on them
I Homestay
Address:  241 Jalan Indah 9/3, Taman Bukit Indah 81200, Johor Bahru, Johor, Malaysia
Contact: +6016-721 0802
5. The Loft Guesthouse Bukit Indah (Legoland Homestay)
Looking for a holiday home that are safely guarded with CCTV and securities, plus a homey design specially crafted to feel like you're still at home.
The Loft Guesthouse Bukit Indah is a double-storey terrace house spacious for up to 15 people and ideal for a big group of family.
Homestay Highlight:
Kitchen is fully equipped
Provides rice cooker, induction cooker and also steamboat cooker
Features 4 bedrooms and 3 bathrooms
Safe and quiet neighbourhood
Parking spaces is spacious to park 2 cars
Patio to lounge
BBQ pit
TV and VCD player
Good To Know:
Close to most of the attractions
A security deposit is required upon check-in
Events and parties not allowed to be hosted in the property
Firecrackers are also not allowed
3 children up to 16 years of age stay free when using existing beds
All children or adults are charged MYR20 for extra bed per night
The Loft Guesthouse Bukit Indah (Legoland Homestay)
Address:30, Jalan Indah 7/9 Taman Bukit Indah, Bukit Indah, 81200 Johor Bahru, Malaysia
Contact: +6012-261 7169
Homestay in Kempas
1. Eco Bed & Breakfast
Are you an environmentalist who tries to preserve and conserve our "Gaia"? Here in Eco B&B, is as the name calls it, an environmentally-friendly homestay that made conscious effort to reduce any waste and carbon footprints.
Let's go green with their handmade furniture and home grown organic meals as they rouse the eco-consciousness in you.
Also read: 10 Best Hotels In Johor Bahru
Homestay Highlight:
Complimentary vegetarian breakfast
Equipped with toiletries and hairdryer
Coffee, tea or lemon infused water provided throughout the day'
Handmade furniture
Rescued cats around the homestay
Rocking bed is self-made and top attention of this homestay
Good To Know:
Try their waffle, it taste really good
Cool water is provided in every room
Main gate is locked at 1am, so it is best to inform the housekeeper in advance if you intend to return after 1am.
The homestay only serve vegetarian food
No alcohol and smoking in the premise
Each room has a locker
Eco Bed & Breakfast
Address: No. 42, Jalan Setia Tropika 9/6, Taman Setia Tropika, Kempas 81200, Johor Bahru, Johor, Malaysia
Contact: +607-244 6499/ +658-123 0049
2. Lovely Homestay
Planning for your biggest day and doesn't know where and how to make it perfect? Recreation Group is there to assist to take care of the events; including decorations, food & beverages and of course lodgings.
Lovely Homestay is one of the few accommodations under this group to cater for large groups and events. So leave the planning to them and just enjoy the day.
Homestay Highlight:
Fully equipped kitchen
Two balconies
Best for wedding events, parties, family or friend gathering, business trip
Able to prepare, plan and decorate the house to suit your style
Wedding package and menu
Big screen TV
Large audio system
Good To Know:
Provide tour for guest to explore Johor Bahru and other places
You can request for catering services
The event management offer their best in planning events, you can leave everything in their hands
There's 4 more homestay under the same company providing similar comfort and luxury
Lovely Homestay
Address: No. 44, Jalan Bukit Kempas 2, Taman Bukit Kempas, 81200 Johor Bahru, Johor, Malaysia
Contact: +6012-643 0503
Homestay in Kulai
1. House Of My Eternal Love
Aside from JB town, there are a lot more homestays up north in Kulai district, and House of My Eternal Love is one of the few good ones.
Also read: 12 Awesome Hotels Near Senai International Airport Johor
The owner spends 6 months to build up the homestay where 80% of the furniture is handmade by the workers. The abundance of love the owner showed to make this homestay and together with the cleanliness, space and affordable prices, you won't regret staying here!
Homestay Highlight:
Car rental service
Laundry service
Airport transfer
Wi-Fi
Air-conditioned room
3 types of rooms: special, family and standard room
Good To Know:
Furniture are handmade by workers
5 minutes drive to AEON Kulai
Get to taste special coffee and toast in the morning
Can rent the place for BBQ party or birthday party
House Of My Eternal Love
Address: No.29-7 & 29-8, Jalan Ketumbar 1, Tai Kheng Park, Kulai, Johor, Malaysia
Contact: +607-663 9188
Homestay in Bandar Sri Alam
1. Harvest 29 (庄稼29)
Looking for that darling big house that is able to fit a party or even wedding guests? Look no further, Harvest 29 is one of the best homestay you can make memories of.
Not forgetting they too assist in planning weddings, birthday parties, business or private events which includes the meal, venue layout, decorations, audio, programs, transportation, lodgings, meals and everything else. So, your stay is well taken care of.
Homestay Highlight:
Bathroom with bath
Oven
DVD player
Terrace to relax
Coffee machine
Fully-equipped kitchen
2 open gardens
4 bedrooms
Has 2 pet dogs
Wi-Fi
Bicycle available
BBQ facilities with rental charges
Good To Know:
Allow pets
Only accepts cash
Cater for family gatherings, parties, and wedding events
Able to arrange and decorate the homestay to suit your needs
Harvest 29 (庄稼29)
Address: No. 29, Jalan Bayu 29, Bandar Seri Alam, Johor Bahru, Johor, Malaysia
Contact: +6012-655 0429
Homestay in Kebun Teh
1. Citi Homestay
Relax, recharge and rejuvenate with its complimentary facilities offered in this homestay. Also, with its strategic location to all the fantastic food and shopping mall like Holiday Plaza, you wouldn't need to travel too far just to get a bite or go for shopping.
Homestay Highlight:
3 bedrooms
Board games and puzzles are provided
BBQ facilities provided at additional cost
Laundry services
WI-FI available
Fully-equipped kitchen
Coffee powder and mineral water provided
Fitness centre
Swimming pool
Children's playground
Free parking space
Good To Know:
Required to pay deposit upon check-in
Children under 12 are charged for extra beds
Adults and older children are charged for extra beds
Pets are not allowed
Parking spaces are limited
4 minutes drive to Holiday Plaza
18 minutes drive to Legoland
24 hours mamak store in front of the apartment
Citi Homestay
Address: Zennith Suite, Jalan Kebun Teh 2, Pusat Perdagangan Kebun Teh, 80250 Johor Bahru, Johor, Malaysia
Contact: +6012-722 1280
How To Get To Homestay Johor Bahru From Singapore
How will you get to these homestays from Singapore?
The easiest and convenient option is to hire a private taxi!
You can travel with SGMYTAXI – a comfortable and reliable private car service that is recognised for its high standard of punctuality and reliability.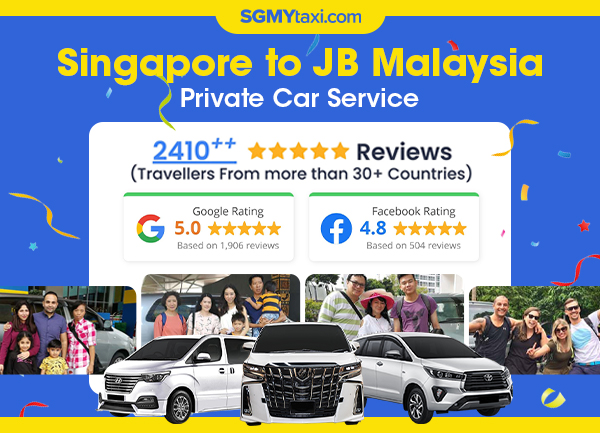 Not only that, you don't need to get off the vehicle when crossing the Singapore-Malaysia immigration centre as they fetch you from the pick-up point in Singapore directly to any of these homestays in Johor Bahru.
Our well-trained drivers will ensure you reach your destination safe and sound as your safety is our priority! So, seat back and relax, let us do the worries for you while you have a pleasant journey.
Contact us or book online today, it's easy with SGMYTAXI!
You Might Also Like: