Don't judge Singapore by just looking at the map!
The city itself has so much to offer – from leisure shopping, fine dining, luxury hotels, cultural streets, theme park attractions to historical sites, it is sure to make your visit worthwhile and fun!
Proud to mention, some Singapore attractions built even break the world's record and leave all visitors in awe!
Besides, this modern city has an outstanding public transportation system whereby getting around the town is so easy, convenient and most importantly, cheap.
You can check the Singapore travel tips before your trip!
If you want to plan a weekend trip or a vacation, do put Singapore as your first choice because it will never ever disappoint you.
Now let's move on to closely look at what Singapore offers to us!
21 Most Popular Singapore Attractions

Singapore Shopping & Leisure
1. Marina Bay Sands
Attached to the world-class and majestic appeal hotel, The Marina Bay Sands Hotel & Casino, this place looks extremely like a spaceship landing on 3 perching high towers.
The whole Marina area is truly a masterpiece housing upscale shopping mall, casino, top-notch restaurants and exclusive infinity pool in the clouds with legendary view.
Shopaholics will surely rejoice in the unlimited rows of luxury shops at The Shoppes. It has one of the biggest collections of luxury and premium fashion, accessories and jewelleries brands in the world.
Things To Know Before You Go:
Visit the SkyPark an hour before sunset. This is the best time to catch the amazing sunset and watch how the lights adorn the cityscape.
For affordable drinks, go to CE LA VI at the SkyPark
Free water and light show at weekend nights. The show starts at 8:00pm, 9:30pm and 11:00pm.
Staying at Marina Bay Sands Hotel get free access to the infinity pool, Skypark and Jacuzzi during the stay.
 Marina Bay Sands Highlight:
Art Science Museum
Shopping and Theatres
Restaurants featuring cuisines all over the world
The Casino
Observation Deck – The Marina Bay Sands SkyPark
How To Get Ro Marina Bay Sands:
MRT:
Alight at Bayfront MRT Station. The station is linked to Marina Bay Sands.
Bus:
Bus Stops: Marina Bay Sands Hotel, Marina Bay Sands MICE &Marina Bay Sands Theatres.
Route:
Monday to Friday: Bus 97, 106, 133, 502 & 518
Late Night Friday, Eve of Public Holiday and Saturday: Bus NR1, NR6
River Ferry:
Go to the jetty near the South Promenade
Then the ferry will bring you to the jetty at Marina Bay Sands.
Operating Hours: Daily 7:00am – 10:00pm
2. Orchard Road (Shopping Haven)
The 2km stretch Orchard Road lies everything you could think of! Boutiques, designer stores, entertainment spots, opulence hotels, cafes, distinctive restaurant and many more make it one of the most popular shopping streets in Singapore.
With nearly 30 malls to choose from, the whole street is dedicated to shopping, be it luxury shopping or budget shopping. It promises to satisfy all ladies' fashion needs and leave you wonderful shopping experience.
Things To Know Before You Go:
The best time to visit is at the end of the year. The incredibly Christmas decorations make you feel yourself right inside a fairy tale.
For bargain seekers, nationwide sale falls from late June to August. Almost all stores participate in it.
If you couldn't afford luxury brands, go to Lucky Plaza for budget shopping. Exceptional beauty salons services can be found here too.
Wear shoes which are comfortable.
Larger size clothes are hard to find here.
All shops are linked underground through the underground walkway. No worries if it's raining.
Ice-cream sandwich is one of the must-try street food which is cheap and tastes so heavenly.
What To Do In Orchard Road:
Shop until you dropat ION Orchard, CK Tangs, Wisma Atria and Wheelock Place.
Budget dining at Asian Food Mall, Ayam Penyet Ria and Killiney Kopitiam.
Fine Dining at Sabai, Sushi Kikuzawa, Crustal Jade Palace and Chatterbox.
Drink at Alley Bar, Number 5.
Visit Itsana for overwhelming architecture.
Indoor wall climbing at BorderX.
How To Get To Orchard Road:
Go to Somerset, Dhoby Ghaut, Orchard, City Hall MRT stations on the North-South Line. All are well-connected to Orchard Road.
3. Clarke Quay
Clarke Quay is a delightful place that hustles and bustles in both day and night. During the day, people are here for pushcart vendors, recreation outlets, unique boutiques, trendy restaurants and many more.
While at night, the lively, vibrant and entertaining atmosphere from lining concept bars turns Clarke Quay into a nightlife spot for real bar hoppers.
Also read: Melaka River Cruise
With the entire walkway facing the river, this picturesque place is perfect for you to socialise or chill with wine. Plenty of live bands and karaoke add to the vibe too, making this a heaven for party animals.
Things To Know Before You Go:
The best time to visit is in the evening when nightlife is about to begin.
This place is children friendly even though clubs and bars are everywhere at night.
Always check the price before ordering something. Some could be overly pricey.
What To Do In Clarke Quay:
During the day, visit historical places around such as Hong San See Temple and Central Fire Station & Civil Defence Heritage Gallery.
Experience waterfront dining with pretty views.
Take a river Cruise along Singapore River (40 minutes).
Leisure walk to Boat Quay.
Listen to Rock and Roll bands at Crazy Elephant.
Dance in Latin Music all the night at Cuba Libre.
How To Get To Clarke Quay:
10-minute walk from City Hall, Clarke Quay MRT station and Raffles place.
Singapore Theme Park
4. Universal Studios Singapore (USS)
Being the first Hollywood movie theme park in Southeast Asia, Universal Studio Singapore (USS) offers great selection of adrenaline-pumping rides and exciting Singapore tourist attractions for thrill seekers and families.
Also read: 11 Best Singapore Theme Park
Featuring 7 unique movie-themed zones including Madagascar, Ancient Egypt, Far Far Away, Lost World, New York and Hollywood, you really feel yourself stepping into the real movie world filled with enthusiasm and excitement.
Things To Know Before You Go:
Plan your trip here other than popular holidays. You might spend hours waiting for queue just to play your favourite game.
You can upgrade your ticket to Express Pass to beat the long queue.
Book tickets online because the entrance ticket counter is always crowded.
Bring only necessary things to avoid interfering your enjoyment.
Water filters can be found all around the theme park.
Wear comfortable clothes and slippers.
The weather is hot. Apply sunscreen and bring sunglasses and hats.
Be prepared to get wet and bring an extra T-shirt along.
Your play time is very limited. Don't waste time searching for souvenirs and photography.
Wheelchairs and strollers are available for rent.
What To Do In Universal Studios Singapore (USS):
Enjoy lunch before noon to avoid long queue.
Watch The Waterworld stunt show.
Take the Transformers 3D ride.
Ride the stomach-lurching roller coaster – Battlestar Galactica.
Catch the amazing live cartoon show.
Look for exciting live performances on street.
Discover your favourite movie character and take a picture with them.
Visit their shops for exclusive merchandise and fun memorabilia.
How To Get To Universal Studios Singapore (USS):
Take MRT to the Harbour Front station. Then, take Sentosa Express to Resorts World Sentosa where Universal Studios Singapore (USS) is located within.
5. Sentosa Island
People normally visit an island for beach, sunset and water sports but these are not the main Singapore attractions on Sentosa Island. Widely known as The State of Fun, the Sentosa Island in Singapore is a perfect blend of modern city and nature beauty.
Exclusive hotels, beautiful beaches, golf course and even themed park, the island itself promises an exciting getaway with your loved ones.
Things To Know Before You Go:
The island is accessible throughout the year.
Exclusive shopping is available at The Vivo City, Quayside Isle and Festive walk at Resorts World Sentosa.
You won't find any historical places here. All modern attractions in Sentosa Island will keep you active all day.
Don't buy the admission ticket at the entrance. There are plenty of ticket packages available online.
What To Do In Sentosa Island:
Enjoy ultimate fun the theme park – Universal Studio Singapore.
Spend some beach time at Siloso Beach.
Bring little ones to Insect Kingdom to discover the wonders of nature.
Play 4D interactive shooting game at Sentosa 4D Adventureland.
Discover sea creatures or even swim with dolphins at Underwater World Aquarium.
Experience island nightlife at WOOBAR or any beach bars around.
Try a game at the Resort World Sentosa Casino.
Take a perfect tourist photo at Merlion, the famous statue of lion head in Singapore.
Visit Trick eye Museum for surreal photos.
Visit the one and only fort in Singapore, Fort Siloso.
How To Get To Sentosa Island:
Go to Mount Faber and take a 12-minute cable car to Sentosa Island.
Take MRT to Harbour Front Station and walk to level 3 of the Vivo City. Next, take the Sentosa Express to Sentosa island.
Singapore Culture Avenue
6. Little India & Arab Street
Thanks to the diversity of neighbourhood in Singapore, Little India & Arab Street proudly presents you the richest tradition and delicious food in town.
Covering Haji and Bali Lanes, Muscat Street and Bussorah Street, Arab Street is a culturally rich heritage trail where you will find collection of beautiful fabric, gorgeous linens and stunning sari material.
On the other hand, Little India takes you past traditional Indian crafts shops to fragrant flower shops.
Things To Know Before You Go:
For the most colourful experience, visit during festival season like Pongal and Deepavali to see the amazing celebration of Indian community.
Bring enough cash because many food stalls or shops cannot pay using credit cards
Don't go too early because most of the shops open at mid-morning.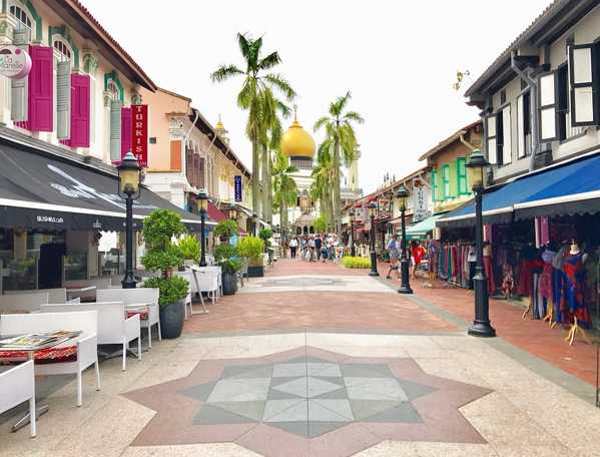 What To Do In Little India & Arab Street:
Little India
Visit the oldest Hindu temple in Singapore – Sri Veeramakaliamman Temple.
Do some shopping at the biggest indoor wet market in Singapore – Tekka Centre. It sells the best food on the street too.
Head to Jothi Store & Flower Shop for Indian cosmetics.
The Mustafa Centre which opens 24 hours sells all kinds of products.
Arab Street
Take in the majestic architecture of Masjid Sultan Mosque
Enjoy delectable Mee Siam, Mee Bandung and other Indonesian & Malay food at Kampong Clam Café
Shop at Trippies or visit Children Little Museum to travel back to old Singapore
Visit Soon Lee for one-off items done by both international and local designers
Watch a movie at The Projector
Shop for vintage dresses and homemade crafts by at Craft Assembly
How To Get To Little India & Arab Street:
Little India
Take MRT to Rochor, Farrer or Little India stations.
Arab Street
Take MRT to Bugis Junction. Walk out to Raffles Hospital and Arab Street is next to Golden Landmark Hotel.
5-minute walk from Queen Street Bus Terminal
7. Singapore Chinatown
Singapore Chinatown is always filled with joy and excitement and it also tells the interesting story of Chinese heritage. There is an abundance of delicious food, historical areas and cultural spots dotting the area.
What's even more surprising is that the Chinatown blends the old and new together. Ancient medicinal halls and traditional temples are lining together with new bars and trendy restaurants and visitors don't find them awkward together.
Things To Know Before You Go:
The best time to visit is in the late afternoon and evening where night market stalls begin to roam the street.
If you happen to be near when Chinese New Year is around the corner, you'll see fascinating lights and decorations all around.
Wear comfortable shoes because there are plenty of sight-seeing places
Singapore Chinatown is an ideal place to enjoy authentic food at cheap prices
What To Do In Singapore Chinatown:
Experience the authentic flavour of the food at Maxwell Food Centre.
Admire the remarkable 4-storey Buddha Tooth Relic Temple.
For nightlife, go to Ann Siang Hill on Friday or Saturday night.
Visit the Nus Baba House showcasing The Peranakans artefacts and furniture.
At Pinnacle, climb up high to the sky bridge for the perfect view of city's landscape.
Visit Red Dot Design Museum which displays unique design of gadgets and innovative arts.
Eat and shop all the way down the Chinatown Street Market.
How To Get To Singapore Chinatown:
5 to 10-minute walk from Chinatown MRT Station. Exit to the Pagoda Street.
Singapore Parks & Garden
8. Gardens by The Bay
Famed for the Supertree structures with fantastic skywalk, Gardens by The Bay offers hundreds of plants and trees to discover, creating a greenery world in the city's landscape.
The place is one of the most popular Singapore attractions. It is frequently used as the background of music videos and films. Highlight attractions Garden by The Bay include OCBC Skyway, Heritage Gardens, Cloud Forest, Children's garden, Bay East Garden, Supertree Grove and Cloud Forest.
Things To Know Before You Go:
The best time to visit is on weekday morning when the place is less crowded and cooler.
Buy tickets online for the queue is extremely long especially during weekends.
Admission tickets only include access to Cloud Forest and Flower Dome. Sun Pavilions and outdoor garden are free entrance.
Flower dome has varieties of flowers while cloud forest presents you different kinds of green plants.
Consider buggy ride or wheelchair rental if you come with elderly who cannot walk for long time.
Children's Garden which makes kids excited only open from Tuesday to Friday, 10am to 7pm.
Food is limited here. Best to have meals before going here.
What To Do In Gardens by The Bay:
Amazed by the world's tallest man-made waterfall at Cloud Forest.
Enjoy flower photographing at world's biggest glass greenhouse at Flower Fome.
Walk past the OCBC Skyway and take in the wonderful view.
Enjoy the amazing light show at Supertree Grove. Free entrance.
Have a picnic with loved ones.
Learn about how climate and geographical environment can change the life of plants.
How To Get To Gardens by The Bay:
Alight at either Tanjong Pagar MRT station or Bayfront MRT station.
Shuttle service is provided from Bayfront MRT Station to Gardens by The Bay.
9. Singapore Botanic Garden & National Orchid Garden
Setting across 60 acres of land, Singapore's oldest garden – Singapore Botanic Garden is the locals' favourite recreation spot for leisure, jogging or dining.
Children are always joyful at their Jacob Balls Children's garden, an educational place with maze, tree house and mini-garden to learn about biology and plants.
In 2015, this beautiful garden has been designated as the UNESCO World Heritage Site, representing the first and only botanic garden on the list.
Things To Know Before You Go:
Since the climate at Singapore is steady, there is no bad time for visitation.
Always check the garden's calendar because there will be free concerts from Singapore Symphony Orchestra occasionally.
The park is friendly for disabled or elderly who need wheelchair.
Smoking is strictly prohibited in the park.
Approximately 2,000 species and hybrids of orchid plants are displayed.
Apply sunscreen and bring sunglasses and hats.
Singapore Botanic Garden is free to enter but National Orchid Garden requires entrance fee.
What To Do In Singapore Botanic Garden & National Orchid Garden:
Join the free guided walk to learn more about plants.
Learn about how the plants evolve at Evolution Garden.
Go on the walking trail to explore the garden. Tracks available include Ginger Garden Trail, Heritage Trails, Rainforest Trail and National Orchid Garden Trail.
Feel the peace and serenity at The Swan Lake.
How To Get To Singapore Botanic Garden & National Orchid Garden:
15-minute walk from Botanic Gardens MRT Station.
10. Chinese & Japanese Gardens
Japanese Garden, together with the sister park, Chinese Garden, is located at the centre of Jurong Lake Gardens. Connected by the Bridge of Double Beauty, both gardens are equally famous among photographers and cosplayers who love the unique architecture that makes them feel themselves in the anime.
Both gardens offer ultimate tranquillity and serenity amidst the hustling city. Stone Boat, pagoda and tea house are the signature landmark that resembles the architecture style of Chinese imperial Do visit on weekdays because visitors are relatively lesser.
Things To Know Before You Go:
Cultural performances are held during Chinese New Year and lantern carnival is held during Mid-Autumn Festival. The fantastic decorations light up the garden like a fairyland.
The best time to go is either early morning or late afternoon when the temperature is cooler.
Wear comfortable shoes and bring an umbrella in case raining.
What To Do In Chinese & Japanese Gardens:
Stroll along the path and take in the wonderful beauty of nature.
Admire the pagoda and much other charming architecture.
Take a rest and enjoy bird-watching at the shelter near to the pond.
Take pictures with the 100-year-old pomegranate trees at Garden of Abundance.
Climb up the Cloud Piercing Pagoda for marvellous view of the garden from above.
Spend some quiet moment at the traditional house surrounded by Japanese setting.
How To Get To Chinese & Japanese Gardens:
5 to 10-minute walk from Chinese Garden MRT Station.
Take SMRT bus 180 or SBS bus 154. Ask the bus driver to drop you at Chinese and Japanese Garden.
Singapore Wildlife Preserve
11. Singapore Zoo
For an exhilarating wildlife experience, visit Singapore Zoo – the award-winning wildlife park to get up close to over 300 species and 20% endangered species of reptiles, mammals and birds.
Also read: Endau Rompin National Park
Featuring 11 unique zones, each zone takes you exploring the amazing habitats of wildlife at its fullest. Also check out the Night Safari ride to experience a whole new nightlife with tigers or elephants in jungle!
Things To Know Before You Go:
Recommend spending all day to visit.
Reserve tickets 5 days in advance to avoid sold out.
Always keep your children behind the safety line and don't let them touch the animals unless you get the permission from staff.
Bring sunglasses, sunscreen and hat to protect yourself from the hot sun.
Get yourself a park map and plan your day wisely.
Bring snacks or sandwich because the food in the zoo are pricey.
Bring camera and enough battery to capture memorable moments.
Spray yourself some mosquito repellent because the place is in the middle of a jungle.
What To Do In Singapore Zoo:
Catch the Splash Safari Show where you can see how sea lion performing stunts.
Feed the animals at paying small fee.
Book the Jungle Breakfast to enjoy breakfast with orang utan and other wildlife.
Absorb the knowledge of the dangers of deforestation at the Rainforest Fights Back Show.
Take pictures with the animals or the wildlife statues.
Hop on the Singapore Zoo Tram to explore faster.
Register for Kidzranger Tour to keep your little ones excited. They get to be a one-day zookeeper!
Visit the kampung house – a typical home where Singaporeans live before.
Bring kids to the animal wonderland – Rainforest Kidzworld for never-ending activities with animals.
How To Get To Singapore Zoo:
Take the North-South MRT line to Khabit MRT station. Then, take the Mandai Express Khatib to Singapore Zoo.
12. Jurong Bird Park
With more than 5000 birds from over 400 species, Jurong Bird Park is top attractions in Singapore and surely the heaven where bird lovers can encounter the world's rarest and prettiest feathered residents up close.
Everything inside makes this man-made bird kingdom perfect for a fun day out! You will be amazed by the world's biggest walk-in aviaries – the 30m high Waterfall Aviary which homes to over 600 feathered creatures. At selected areas, you can even feed them and let them stand on your shoulder.
Things To Know Before You Go:
Jurong Bird Park is very crowded during weekends.
Walk-in tickets are more expensive than online tickets.
Wheelchairs are free of charge and strollers can be rent.
Bring insect repellent to avoid insect bite or itchy skin.
Many birds are in cage. This means you hardly get a perfect picture of them.
Bird Show Time is interactive and very entertaining. So always mark out the location and time for bird show time before exploring the park.
Bring enough water. Bottles of water are sold at slightly higher price.
What To Do In Jurong Bird Park:
Visit Flamingo Lake for more birds.
Plan an overnight camp to sleep with winged animals.
Feed the penguins and pelicans at selected areas.
Hop on the tram for SGD$5 if you are tired.
Admire the newly-hatched birds at the Breeding & Research Centre.
For little ones, beat the heat at the bird-themed water playground – Birdz of Play.
Catch the Kings of the Skies Show to see how hawks, falcons and eagles soaring in the sky.
See the collection of pelicans at Pelican Cove.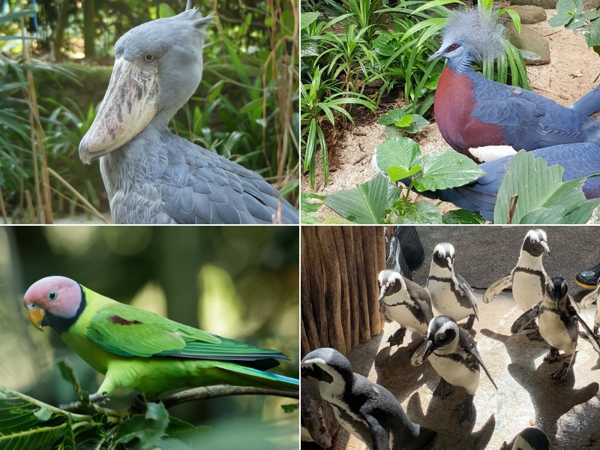 How To Get To Jurong Bird Park:
Alight at Boon Lay MRT station and hop on either bus 194 or 251 to Jurong Bird Park.
13. Singapore Night Safari
When dusk falls, Singapore Night Safari welcomes you to a whole new wildlife world full of nocturnal animals. Be sure to make friends with the wildest animals at Singapore Night Safari!
With over 2500 animals living in the 35 hectares rainforest, you'll be greeted by world's endangered species such as Malayan Tapir, Asian elephant and Malayan tiger. No worries about your safety because there are barriers keeping you safe from the fiercer animals like leopards.
Things To Know Before You Go:
Singapore Night Safari is overly crowded on weekend or holidays.
Dress in something cool and comfortable because the place is hot even at night.
Get yourself a poncho instead of an umbrella.
Insect repellent is a must because you stay right inside the jungle and most importantly, at night.
Flash photography is strictly prohibited because it hurts the eyes of animals
Bring enough water.
Get yourself a map to prevent getting lost.
My advice it to take the walking trail before riding tram to avoid the crowd.
What To Do In Singapore Night Safari:
Enjoy evening dinner in the wild.
Hop on the 40-minute tram ride with guided tour. The centre seats offer the best view.
Watch the humorous and entertainingCreatures of The Night Show amidst the rainforest
Chat with the tour guide to learn more about the interesting stories in night safari.
Discover the bats hanging upside down while walking the trail.
Watch cultural dance performance by warriors of Thumbuakar troupe such as flame-throwing and fire-eating.
Trek into the Fishing Cat Trail and Leopard Trail to see more wildlife that you can't see from the tram.
Watch Malayan tiger and lion feeding time. It's amazing to see how these animals devour the food with naked eyes.
How To Get To Singapore Night Safari:
Take MRT to Choa Chu Kang MRT Station. Then take SMRT bus 927.
14. S.E.A Aquarium
Immerse in the Southeast Asia's largest aquarium – S.E.A Aquarium to explore the awe-inspiring life beneath the ocean. Strategically located on Sentosa Island, this fantastic ocean world offers visitors over 100,000 marine life from 800 species and 20,000 species of corals.
Behold the elegant ocean world from all angle! The specially designed crystal glass window allows visitors to feel themselves right inside the ocean. You'll probably be mesmerized by the feeling of thousands of cute marine creatures swimming all over you.
Also read: Top 7 Singapore Water Park
Things To Know Before You Go:
There are 10 zones covering 49 habitats in total.
VIP tickets offer a 3-hour private tour in the most calm and serene environment.
The ticket also allows admission to Maritime Experiential Museum.
What To Do In S.E.A Aquarium:
Touch and learn about the lifestyle of cute starfish at the Touch Pool.
Head to the tropical fish section to see the seahorses.
Admire how jellyfish glows in the water.
Register for the Ocean Dreams where you can spend a night with the fish.
Learn about every fish through the board at each viewing area.
Watch the lovely dolphins jump, play games and flip at the Dolphin Island.
Get lost in the enormous dome of Open Ocean tank.
Spot the sharks through the glass window.
Dine at the Ocean Restaurant with a gigantic aquarium in front of you.
How To Get To S.E.A Aquarium:
Take MRT to Harbour Front MRT station. Exit to Vivo City and proceed to level 3. Then, board the Sentosa Express and get down at Waterfront Station. S.E.A. Aquarium is within 1-minute walk.
Singapore Sightseeing
15. Merlion Park
Meet the mysterious half-lion and half-fish statue – Merlion statue standing proudly at the waterfront of Merlion Park overlook the Marina Bay.
Built by the local craftsman – Lim Nang Seng, the Merlion statue comes with a lion head and the body of a fish. It serves as the national icon of Singapore, receiving millions of tourists coming over to take a glimpse every single year. It is also the most famous selfie backdrop and must-visit attractions in Singapore.
Things To Know Before You Go:
The park is accessible all year round, 24 hours a day.
The lion head symbolises the original name of Singapore – "Singapura" which means the lion city in native language
the body of a fish represents the very beginning of Singapore when it was still a fishing village. During the time, Singapore was called "Temasek" which means the sea town in Javanese language.
If you happen to be in Sentosa, there is a giant version of Merlion Statue somewhere. Find it out.
What To Do In Merlion Park:
Take a picture of you catching water spraying from the mouth of Merlion statue.
Admire the sweeping views of the bay from Merlion Park.
From the Merlion Park jetty, take a river cruise along the Singapore River.
How To Get To Merlion Park:
Take MRT to Raffles Place MRT Station. Exit door G and walk along Singapore River to the Fullerton Hotel. Then, make your way to the One Fullerton and you'll see the Merlion statue.
16. Singapore Cable Car
Soar high above the sky with the Singapore Cable Car! Connecting Faber Peak Singapore to Sentosa Island, this cable car offers you the most wonderful views of the island and Mount Faber, the second highest hill in Singapore.
Besides, the new Sentosa Line serves as the intra-island line, which adds to the transport system within the Sentosa Island.
At Mount Faber, the cable car is located at the top of the hill – Fable Peak. Nowadays, it has transformed into one of the major tourist attractions in Singapore. While for Sentosa Island, it is full of fun and excitement. Spending your vacation here is truly the right choice!
Things To Know Before You Go:
Last boarding time at 9:30pm.
Do cover the trip day and night because the views offered are equally beautiful and magical.
You might need to share ride with others at peak hours, usually late afternoons during weekend.
The spacious cable car can accommodate up to 8 adults.
Singapore Cable Car has 2 lines, with 6 stations in total.
The first line, Mount Faber Line begins at Mount Faber Station. Then it moves towards Harbourfront Station and lastly, the Sentosa Station.
The second line, Sentosa Line starts at Merlion Station. Then it continues moving to Imbiah Lookout Station and terminates at Siloso Point Station.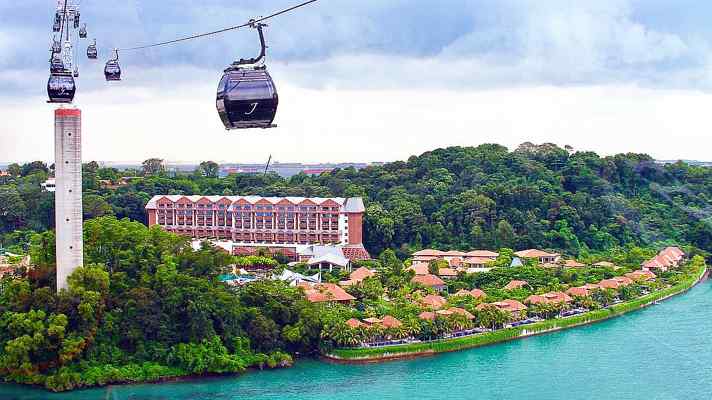 What To Do In Singapore Cable Car:
Take pictures of the views as much as you can. Open the window to prevent glass reflection which affects the quality of photograph.
Dine in the cable car while soaring through the sky.It costs SGD$55.
Drink and take in the unparalleled views at trendy bar at Faber Peak.
How To Get To Singapore Cable Car:
Faber Peak is only 5 to 7-minute walk from Harbourfront Station
17. Singapore Flyer
At Marina Bay, never ever forget to take the one-of-a-kind Singapore's Ferris Wheel – Singapore Flyer which lifts you up to 165m high to enjoy the most fantastic and marvellous city sights such as Singapore River and Raffles Place beneath your feet!
It's really hard to tell the best time to go. But if you ask for the all-time favourite, it's when the dusk falls but not too dark for pictures! When the sun begins to set and everything – sky and the city start giving away millions of dazzling lights, the view is so priceless and romantic.
Things To Know Before You Go:
This is the largest observation wheel in the world.
You can consider standard admission ticket or the worthy multi-attraction pass.
A single air-conditioned capsule can accommodate 28 passengers.
The complete rotation takes around 30 minutes. Make sure you go to the restrooms before the ride.
There are lots of shopping malls, restaurants and even spa treatments around the Singapore Flyer.
The ride is friendly to wheelchairs users.
What To Do In Singapore Flyer:
At the top of the wheel, be awed by the 360 degree panoramic view covering from Singapore to parts of Malaysia and to Indonesia.
Consider taking the ride in the hot afternoon to cool yourself down.
Enjoy premium sky dining like no other.
How To Get To Singapore Flyer:
5-minute walk from Promenade MRT Station. Then, go to exit A and search for a blue pedestrian sign which leads to Singapore flyer.
Island Lover
18. Pulau Ubin
With 15-minute bumboat ride from the mainland, you'll arrive at The Granite Island – Pulau Ubin, the only place where you can discover and experience the olden days of Singapore.
Throwback to 1960s before Singapore turned into such a glamour place full of skyscrapers, people were living in a simple village where fishing and farming are their main source of income.
Nowadays, the island still retained the traditional wooden houses and jetties. This is probably one of the nearest destinations to escape from the hustle and bustle of city life.
Things To Know Before You Go:
The village lifestyle on Pulau Ubin is almost extinct on the mainland.
Unlike Sentosa Island, Pulau Ubin offers lush greenery and natural wildlife.
Being enough cash because there is no ATM machine on the island.
Register yourself at Pulau Ubin Police Post if you plan to stay here overnight.
Mamam and Jelutong are the 2 camping sites on the island. Both campsites are equipped with toilet facilities but only Jelutong can set up a campfire.
What To Do In Pulau Ubin:
Cycle into the island to discover the natural wildlife.
Experience mangrove kayak adventure.
Learn more about the types of floras and faunas around the island.
Climb up the Jejawi Tower for breathtaking views.
Socialise with the locals and learn about the past of Singapore.
Discover the Chek Jawa wetlands at the East part of the island.
How To Get To Pulau Ubin:
10 to 15 minutes' boat ride from Changi Point Ferry Terminal.
The boat can accommodate up to 12 people and it departs from 6:00am to 8:00pm.
The single ride costs SGD$3 per head. Additional SGD$2 is charged for bringing a bicycle.
Singapore Museums/ Art Galleries
19. National Museum of Singapore
Welcome to the oldest museum in Singapore – National Museum of Singapore to seek for inspiring history, culture and tales of Singapore. The museum brings you travelling back to 1887, the time when it was newly opened as the Raffles Library and Museum.
Spreading 6 galleries in total, this museum is probably the best place to learn deeply about Singapore in such a fun and creative way. Film and Wayang, fashion related objects, food, albums and portraits will be displayed at the exhibition. Besides, you'll be fully surrounded by videos showing the life in Singapore, both the past and present days.
Things To Know Before You Go:
Download the National Museum Open House app for free at Google Play Store or Apple App Store to enhance the visitation.
Lots of shows and events will be held throughout the year. For instance, art installations, film screenings and festival performances.
Admission to living galleries is charged.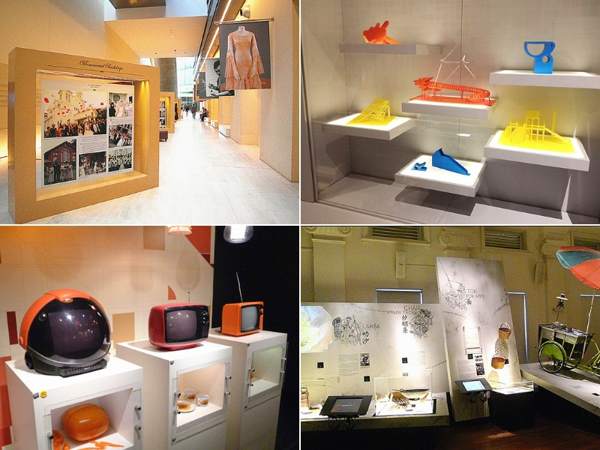 What To Do In National Museum of Singapore:
Check out over 450 drawing from William Farquhar at the Goh Seng Choo Gallery.
Buy some souvenirs at the retail shop.
Listen and watch the story-telling videos at every exhibition. The videos are very informative and organised.
Join the guided tours which are children friendly.
How To Get To National Museum of Singapore:
5-minute walk from Dhoby Ghaut MRT station or Bras Basah MRT station.
10-minute walk from City Hall MRT Station.
Bus stops nearby are YMCA bus stop and Stamford Road Bus Stop.
20. National Gallery Singapore
Housed in the renovated City Hall and former Supreme Court Building, National Gallery Singapore displays the world's biggest collection of Southeast Asian's visual and modern art from 19th century to present day.
This is a place where history meets modernity. Over 80,000 pieces of unique collection showcased makes it a must-visit attraction in Singapore. Up until now, this gallery has been inspiring locals to appreciate their rich heritage and history.
Things To Know Before You Go:
Get yourself a gallery map. You could get lost.
Download the Gallery Explorer mobile app to listen to the guided tours.
Check out the gallery calendar to catch for workshops, performances, talks or interactive activities for children and students.
What To Do In National Gallery Singapore:
Listen to the artist talks to get inspired on how they create such brilliant work
Join the guided tours and talk to the curators to gain insights on the arts
Access to the Rotunda Dome – the secret library for lawyers and judges in old times
Indulge in the art education centre that offers lots of artful and interactive learning programmes.
Browse for artistic books and cute merchandise at the gallery shop.
Dine at the National Kitchen by Violet Onn or the bar at rooftop – Smoke and Mirrors for great views.
How To Get To National Gallery Singapore:
7-minute walk from the City Hall MRT Station through Art Connector.
10-minute walk from Clarke Quay and Raffles Place.
Singapore Historical Sites
21. Fort Canning Park
Be mesmerized at the history of Singapore at Fort Canning Park. This place is very rich in history because a lot of important historical events happened here, making it the prominent historical sites of Singapore. Despite being a historical site, it is also home to various troupes of modern performing arts.
Located in the centre of Singapore, Fort Canning Park is an unusual green sight where you can have a short escape from the bustling city even during weekdays.
Things To Know Before You Go:
The annual music event is held here. There will be performers from all over the world. Markdown on your calendar!
The hill leads to the Orchard Road. National Museum which situated right behind is accessible by escalator.
The lamp light is on from 7:00pm to 7:00am.
The place is wheelchair friendly.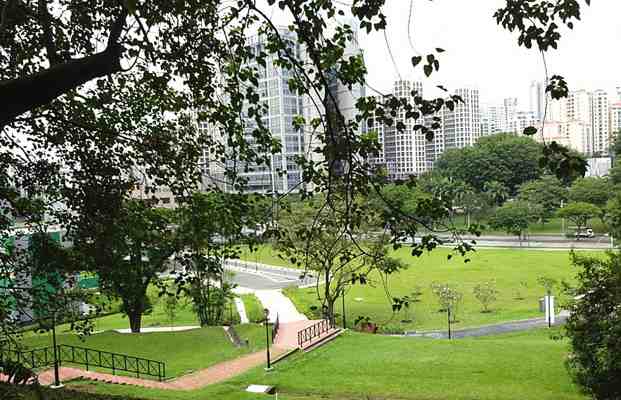 What To Do In Fort Canning Park:
Gain insights into Singapore's evolution to one of the world's international maritime centre at Maritime Corner.
Admire the Fort Gate, a fortress that had survived numerous battle.
If you are lucky enough, watch theatre performances and concerts before leaving.
Visit the underground military complex during World War II at Spice Garden.
How To Get To Fort Canning Park:
Take MRT to Fort Canning Station and make your way to Exit B.
Alight at Clarke Quay MRT station and take exit E. Walk across the Coleman Bridge and you'll reach the destination.
Exit B gate at Dhoby Ghaut MRT Station. Walk across the Penang Road and you'll see a tunnel which leads you to destination.
Frequently Asked Questions
1.What to do in Singapore for free?
Grab a photo next to Merlion Park.
Watch the light show at Marina Bay.
Conquer Sentosa without spending a single cent.
Get freebies at Changi Airport.
Admire the Supertrees at Gardens By The Bay.
Catch a screening by local landmarks with MovieMob.
Explore Singapore's ethnic enclaves on foot.
Stride above the trees at MacRitchie Reservoir's Treetop Walk.
Sit in for a staged show at the Esplanade.
Go green at Singapore Botanic Gardens and Fort Canning Park.
2. What are the best places to visit in 3 days?
If you have only 3 days in Singapore, best places to visit are Universal Studios, Gardens By The Bay, Sentosa Island, S.E.A. Aquarium, China Town and Merlion Park.
3. What is the best time to travel to Singapore?
Best time to visit Singapore is during the summer months of June to August. Try to avoid busy periods during festivals or embrace the crowds.
4. What is the most beautiful place in Singapore?
Marina Bay Sands (Skypark)
Merlion Statue (Merlion Park)
Marina Bay Sands (Infinity Pool)
Buddha Tooth Relic Temple & Museum
Garden By The Bay Esplanade (Theatres on the bay)
ArtScience Museum Fountain of Wealth (Suntec City)
5. What to do in Singapore on a rainy day?
Shopping in Orchard Road.
Pay a visit to the S.E.A Aquarium.
Go to the pub at Clarke Quay.
Visit the world's tallest indoor waterfall at Singapore's Cloud Forest.
Get a cultural fix at Signapore National Museum.
Scale the world's tallest indoor waterfall Buddha Tooth Relic Temple.
Educate yourself at Science Centre Singapore.