Cool of year-round at one of these exciting water parks in Singapore!
If you are looking for a little more excitement this holiday, instead of just taking a dip in the pool, we got this perfect suggestion for you.
While offering family-friendly fun, these 7 water parks that stocked with splashtastic attractions from meandering lazy river, funnel ride, wave pool to exciting slide are best for people who adored water.
Top 7 Singapore Water Park
1. Adventure Cove Waterpark
Enjoy splashing fun at Singapore's most exciting water park – Adventure Cove.
Get your heartbeat racing up high while elevating down the thrilling slides after several twists and turns. There are 7 exciting water slides awaiting you!
Encounter the marine life at Adventure Cove too. Despite swimming with fish, you might even come facing with sharks! Truly a great place to visit in Singapore to beat the heat while spending quality time with little ones.
Adventure Cove Waterpark Highlights:
At Rainbow Reef, enjoy snorkelling adventure in the lagoonwith over 20,000 tropical fishes and beautiful manmade reefs.
Take the high-speed water slides to have you screaming till splashing out in the pool.
Grab a tube and drift around at Adventure River.
Navigate the way out of the Wet Maze. You get water spray and blasters along the way.
Get completely wet at Big Bucket Treehouse.
Catch a wave at Bluwater Bay.
Splash around in Seahourse Hideaway – a shallow wading pool with naughty fountains.
Wade and interact with rays at the Ray Bay.
How To Get To Adventure Cove Waterpark:
Go to Harbour front MRT Station and proceed to Vivo City. Then, go to Level 3 of Vivo City to ride the Sentosa Express. Alight at Waterfront station. Or, go to Vivo City Level 1 and take the Sentosa Boardwalk that leads to Adventure Cove Waterpark.
Tips & Reminders:
Bring sunscreen to avoid sunburn.
Bring waterproof cover for phone if you want to take pictures while playing around.
Go for Waze Pool or Lazy River when the park is at its busiest time. You don't want to lose time queuing up for slides.
Jeans, jackets, zippers and long skirts are now allowed to enter.
Use the lockers or cabana to keep your belongings safe.
Adventure Cove Waterpark Details:
Location:
8 Sentosa Gateway, Singapore.
Contact:
+65 6577 8888
Opening Hours:
Daily: 10:00am – 6:00pm
Entrance Fee:
Adult: SGD$38
Child & Senior Citizen (60 years old and above): SGD$20
Facebook
2. Wild Wild Wet
Opened in 2004, Singapore's biggest water theme park – Wild Wild Wet is a wholesome entertainment featuring exhilarating slides and interesting water games, leaving both grown ups and children an unforgettable lifetime experience.
Also read: Desaru Waterpark
Also read: 27 Things To Do In Mount Austin Water Park
Expanded to 16 attractions in April 2017, Wild Wild Wet was even awarded the Pro-Family Business Mark in bringing the water experiences to a whole new level. Now, they have reached international standards in life guarding and providing family-friendly facilities.
Wild Wild Wet Highlights:
Enjoy the 360-degree high speed loop ride at Vortex (135m long).
Win a race with friends at the 4-lane racer slide – Kraken Racers.
Experience a free falling vertical drop at the Free Fall, just beside Vortex and Kraken Racers.
Bring little ones to Professor's Playground that boasts various tiny slides, fountains and water buckets.
Sit on a raft and slide down the Royal Flush water tunnel at crazy speed.
Relax yourself at Shiok River where you can sit on a tube and watch how the world goes by.
Let your children enjoy unlimited splashing fun at Yippie!.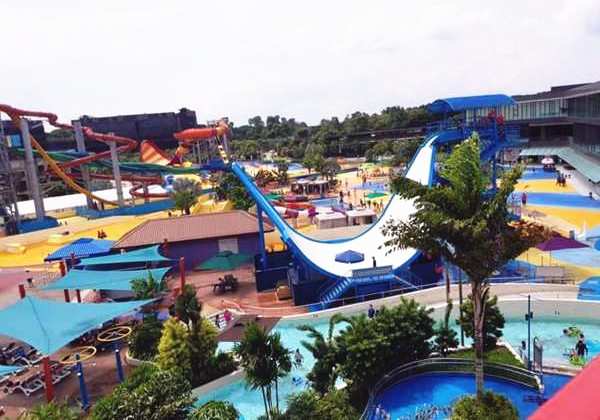 How To Get To Wild Wild Wet:
Wild Wild Wet is situated in Downtown East. To go there, alight at Pasar Ris MRT station you can reach there by foot.
Tips & Reminders:
Buy the tickets online to beat the crowd at entrance counter.
Smoking inside the park area is strictly prohibited.
All pets are not allowed to enter except for guide dogs.
There are only 2 food and beverage outlets inside – Ice cream stop and Breeze Café.
If the weather is bad and the park was closed for more than 30 minutes, a Return Visit Voucher will be given to you. Only available within the next 60 days.
Wild Wild Wet Details:
Location: 1 Pasir Ris Close, Kampong Pasir Ris, Singapore 519599.
Contact: +65 6581 9128
Opening Hours:
Monday to Friday: 1:00pm – 7:00pm
Saturday, Sunday & Public Holidays: 10:00am – 7:00pm
Entrance Fee:
Saturday, Sunday & Public Holidays:
Adult: SGD$32
Child & Senior Citizen: SGD$24
Monday to Friday:
Adult: SGD$24
Child & Senior Citizen: SGD$18
3. Palawan Pirate Ship
Specially designed for kids, Palawan Pirate Ship was built to replace the Port of Lost Wonder Pirate Ship which had closed its door since December 2016. Despite retaining the pirate-themed which favoured by all kids, all guests are free to enter to enjoy the ultimate joy.
Lots of benches and sheltered areas are set up for parents to rest. The best part is, the place is welcomed for birthday celebration which needs advanced booking.
Palawan Pirate Ship Highlights:
Enjoy water slides and splash around at the pirate-themed water playground.
A mini playground is set up for kids who are tired of getting all wet.
2 Birthday Party Packages to choose from – Ultimate Island and Little Explorers. Themed decorations, delightful food, fun games and invitations cards are well taken care by them.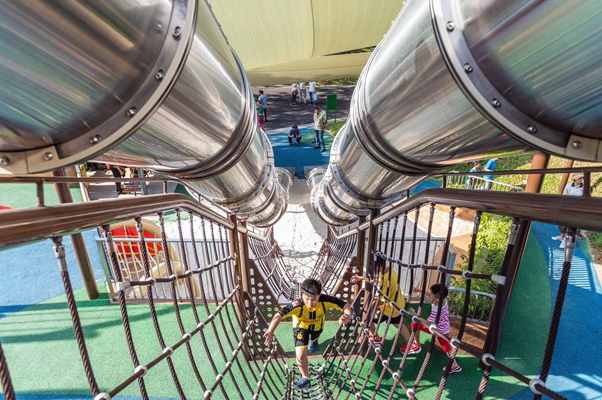 How To Get To Palawan Pirate Ship:
Take the Sentosa Express or board the public bus – bus 123. Alight at the Beach Station. Then, take the Sentosa Beach Tram and get down at Palawan Pirate Ship Stop.
Tips & Reminders:
Although the place is free to enter, all children must be accompanied by at least one adult.
Dress in swim wear to get into the water play area.
Due to weight restrictions, water slides are only suitable for kids.
Scooters, bicycles and pets are prohibited within the premise.
Lockers, nursing rooms and shower rooms are available.
Palawan Pirate Ship Details:
Location: Palawan Beach, Sentosa, Singapore 098236.
Opening Hours:
Daily: 10:00am – 6:00pm
Entrance Fee: Free entrance
4. Splash @ Kidz Amaze (Safra Punggol)
Have a blast at the very first indoor water theme park in Singapore – Splash @ Kidz Amaze! Divided into 2 sections – multilevel area for older kids and wading pool for toddlers, this is an ideal place for all kids to enjoy remarkable water play without the fear of rain or getting sunburn.
Featuring an enchanted deep-sea theme, walls are painted in aqua blue and with extensive collection of marine life hanging on top, you feel yourself stepping right into the mysterious ocean.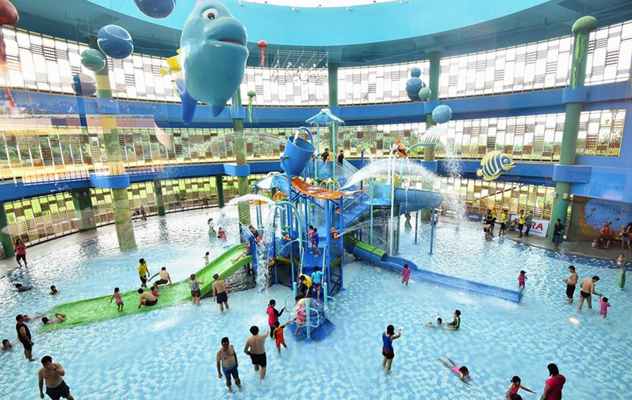 Splash @ Kidz Amaze (Safra Punggol) Highlights:
Stay until evening to see the ever-changing lightning effect and background music. The atmosphere is way too soothing!
For toddlers, enjoy shooting each other with the water guns at the toddler's water play area.
Play the giant version of smartphone's game – Virtual Aquarium.
Parties can be hosted at their themed rooms.
Get ready for gigantic water bucket splash from top!
Also read: Legoland Malaysia Water Park
How To Get To Splash @ Kidz Amaze (Safra Punggol):
One-minute walk from Sam Kee LRT Station which is on the west loop of Punggol LRT system.
Tips & Reminders:
The water park might be closed due to private booking or scheduled maintenance which falls on the third Monday of every month.
Prepare exact amount of notes and coins for electronic lockers as the lockers will not give you any change. Large locker costs SGD$6 while medium locker costs SGD$4.
Attire for kids is strictly swimwear. Adults can wear shorts and Dri-Fit shirts.
Towels are not provided.
Food and drinks are not offered within the premise.
Splash @ Kidz Amaze (Safra Punggol) Details:
Location:
SAFRA Punggol, 9 Sentul Cres, Singapore 828654.
Contact:
+65-6585 8710
Opening Hours:
Monday to Thursday: 1:00pm – 7:00pm
Friday: 1:00pm – 9:00pm
Saturday, Sunday & Public Holidays: 10:00am – 9:00pm
Entrance Fee:
Monday to Thursday:
Child: SGD$16
Per Accompanying Adult: SGD$5
Friday to Sunday & Public Holidays:
Child: SGD$20
Per Accompanying Adult: SGD$5
Facebook
5. Splash-N-Surf
Best suited for kids aged 3 to 12, Splash-N-Surf which situated at the Level 3 of Kallang Wave Mall boasts 2 water play areas – cute 6m deep pool and fun water playground well-equipped with water buckets, slides, swings and other facilities.
True to its name, children can splash all the way the like and experience surfing here. There will be guards on duty and the entire play area is put under surveillance.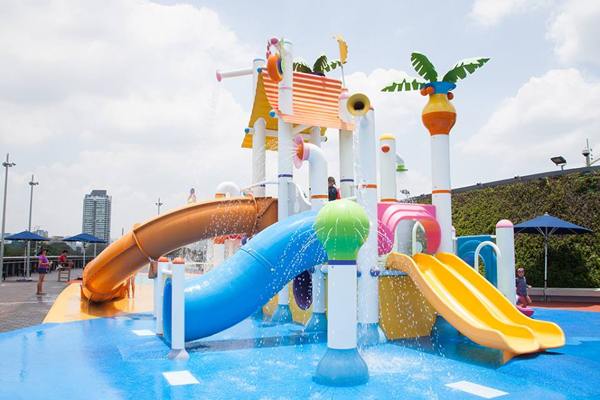 Splash-N-Surf Highlights:
Water playground – from sliding down the slides to being sprouted by windmill fountains, kids can make new friends here!
Kiddy pool –dip inside the pool to combat the scorching sun.
Stingray – a surfing zone where both adults and youngsters can enjoy skim boarding and bodyboarding. Kids who want to play must be higher than 1.2m. The activity is charged at SGD$35 per hour.
Lazy River – float your stress away while relaxing on the tube. It is charged at SGD$2 per day.
How To Get To Splash-N-Surf:
Take MRT to Stadium MRT Station then take a 5-minute walk to Kallang Wave Mall. Go straight to Level 3 and you will see Splash-N-Surf.
Tips & Reminders:
Shower facilities are offered at the toilets.
Lockers are free of charge on the first come first serve basis.
The place is wheelchair friendly.
Nursing rooms are available on Level 1 and Level 2 of the Kallang Wave Mall.
Apply sunscreen on children's skin to avoid sun burn.
Due to the location inside a shopping mall, there are many food and beverages outlets for lunch or dinner.
Splash-N-Surf Details:
Location: Kallang Wave Mall, 1 Stadium Place, Singapore 397628.
Opening Hours:
Daily: 8:00am – 10:00pm
Entrance Fee: Free entrance
6. Westgate Wonderland
On the rooftop of Westgate Mall lies a mega playground adopting a Fantasy Garden Theme. With a 10m high beautiful tree house as the centrepiece, the wonderland is split into three different zones – two dry play area and one water play area.
Also read: 11 Best Theme Park In Singapore  That You Won't Get Bored In
Extensive collection of interactive structures dotted around the area for fun and photography time. When night falls, it turns into a magical place with amazing sound effects and lightning.
Westgate Wonderland Highlights:
Mini fountains, large watering can and active spraying towers are all around to add more splash and keep little ones drenched all the time.
Bluebells that are very responsive to touch with beautiful pitch and lights. Enjoy orchestrating the best music with little ones.
Spinning seats that come with different shapes like flowers and oranges.
Rock climbing which is designed for children.
Climb up all the way to the top of tree house and get back to the ground through a slide.
How To Get To Westgate Wonderland:
At Jurong East MRT Station, take exit D and and head to Wesgate Shopping Mall which is just a 5-minute walk. Westgate Wonderland is at Level 4 of the shopping mall.
Tips & Reminders:
On the last Monday of every month, Westgate Wonderland is closed from 10:00am to 12:00pm for regular maintenance.
Remember to bring towels as they are not provided.
While kids are climbing up the tree house, parents can go to the giant flower pot beside to keep an eye on their children.
Get into the blower room to dry yourself.
For parents, there are plenty of decorated seats for you to have a rest.
Westgate Wonderland Details:
Location: Level 4, Westgate Mall, 3 Gateway Drive, Singapore 608532.
Contact: +65-6826 5450
Opening Hours:
Daily: 10:00am – 10:00pm
Entrance Fee: Free entrance
7. Far East Children Garden, Garden's by the Bay
Being a part inside Garden's by the Bay, Far East Children Garden boasts several play areas equipped with interactive equipment which are mainly cater for little ones.
Set against one hectare of land, the children garden offers perfect safety measures for kids, whereby each area is watched by staffs to keep an eye on the children. Various dry and wet games await children under 12, let's go!
Far East Children Garden Highlights:
Water Play – Linked to the sensors, the water features will create different water effects based on the movement of children. At the Fish Fountain, toddlers will have fun dodging the sprouting water from fish sculptures.
Toddler Playground – Designed for 1 to 5 years old kids, the playground is equipped with simple obstacles, slide and see-saw.
Adventure Trail – A 130m long trail with 14 obstacles for kids to overcome and explore nature, from crossing the wobbly bridge to balancing the singular beams and climbing across the rope.
Rainforest Tree Houses – Climb up to the summit and kids will be rewarded with a fast descent through a long winding slide.
How To Get To Far East Children Garden:
Via the downtown line or circle line, get down at Bayfront MRT Station. Next, take Exit B, walk through the underground walkway and cross the Meadow Bridge to Gardens by the Bay.Far East Children Garden is located at the waterfront of Bay South Garden, very near to Cloud Forest.
Also read: 7 Awesome Water Parks In Johor
Tips & Reminders:
At the covered canopy area called Amphitheatre, parents can have a rest while watching over their children playing around.
Remember to bring drinking water, sun blocks, dry clothes and swimming suit.
Children's Garden is closed on every Monday for maintenance. If Monday is a public holiday, it will be closed on Tuesday of the same week.
Far East Children Garden Details:
Location: 18 Marina Gardens Drive, Singapore 018953.
Opening Hours:
Tuesday to Friday: 10:00am – 7:00pm
Saturday, Sunday & Public Holidays: 9:00am – 9:00pm
Closed on: Monday
Entrance Fee: Free entrance